'Resident Evil: The Final Chapter' Trailer: Milla Jovovich Has Been Running & Killing Her Whole Life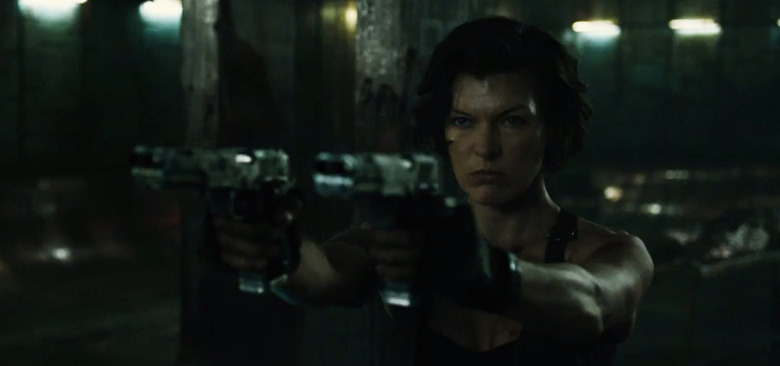 Much like the long life of the Fast and Furious franchise, it's hard to believe that early next year we'll be getting the sixth film in the Resident Evil franchise. While the film series based on the video games of the same name hasn't really found the same massive audience after starting back in 2002, there are still plenty of fans eager to see how it all ends.
Resident Evil: The Final Chapter appears to be pulling out all the stops this time as a new international trailer shows even more absolutely batshit insane action sequences featuring hordes of zombies, giant winged-creatures, and villainous corporate executives talking menacingly in board rooms at the Umbrella Corporation headquarters. It's exactly what you would expect from director Paul W.S. Anderson's latest contribution to the franchise.
Watch the international Resident Evil The Final Chapter trailer after the jump.
Obviously, as the last chapter of a franchise with loyal fans, this movie isn't necessarily looking to pick up any new viewers. But as I watch this trailer, I'm left wondering just what's so appealing about these movies that have resulted in a total of six of them. I can get into some insane action, but the performances and writing in these movies is just so mediocre, and I can only see Milla Jovovich fight and outrun so many monsters created in visual effects before I'm ready for something else. But clearly, some people out there are on the edge of their seat waiting to see how this all ends. Personally, I just want it to be over.
The cast of Resident Evil: The Final Chapter includes Ali Larter (Resident Evil: Afterlife) as Claire Redfield, Iain Glen (Resident Evil: Extinction) as Dr. Alexander Isaacs, Shawn Roberts (Resident Evil: Afterlife) as Albert Wesker, Ruby Rose (Orange Is the New Black) as Abigail, Eoin Macken (The Night Shift) as Doc, William Levy as Christian, Fraser James (Law & Order: UK) as Michael, and Japanese model and TV personality, Rola, as Cobalt. As you can see, the cast isn't exactly full of drawing power either.
Picking up immediately after the events in Resident Evil: Retribution, Alice (Milla Jovovich) is the only survivor of what was meant to be humanity's final stand against the undead. Now, she must return to where the nightmare began – The Hive in Raccoon City, where the Umbrella Corporation is gathering its forces for a final strike against the only remaining survivors of the apocalypse.
Resident Evil: The Final Chapter arrives on January 27, 2017.