'Kong: Skull Island' Poster Is Full Of MONARCH Secrets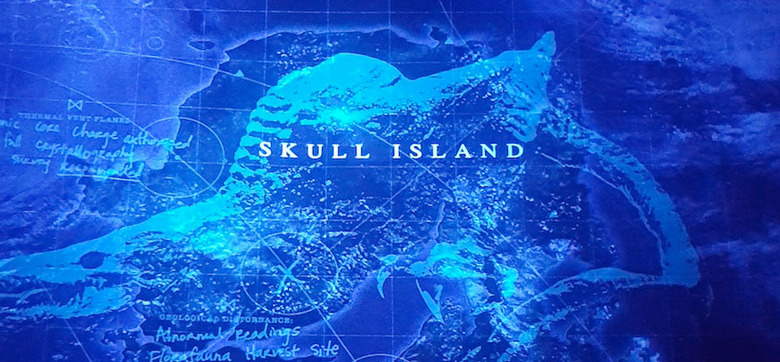 Last weekend at Comic-Con, the hype centered around the likes of the first trailer for Power Rangers, the teaser trailer for John Wick: Chapter 2, the first trailer for Marvel's Iron Fist series, and news of Sigourney Weaver being the villain for The Defenders. But one cool little tidbit flew under the radar until after the dust had settled.
Kong: Skull Island gave attendees of San Diego Comic-Con their first look at the classic monster reboot from director Jordan Vogt-Roberts (Kings of Summer) with a teaser trailer, and now a poster handed out to some lucky folks at New York Comic-Con teases the release of the giant ape a little more. Upon first inspection, it's just an innocent teaser poster with a grid map of the mysterious Skull Island. But when you take a black light to it, some interesting secrets are revealed.
Here's the Kong Skull Island NYCC poster in regular light: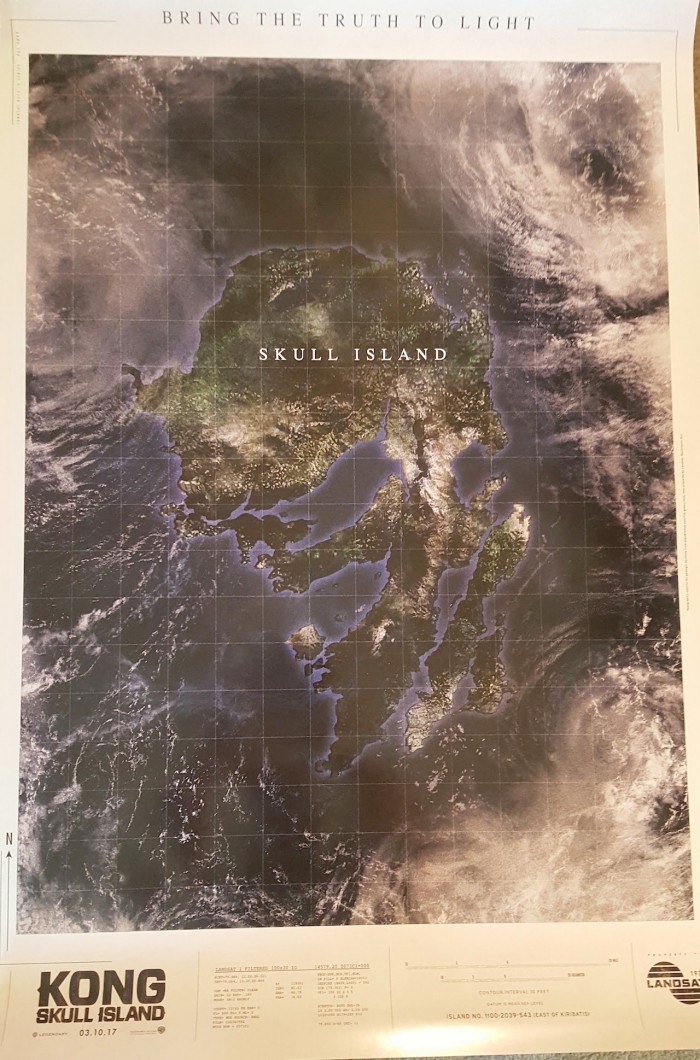 And here's what's revealed with the assistance of a black light: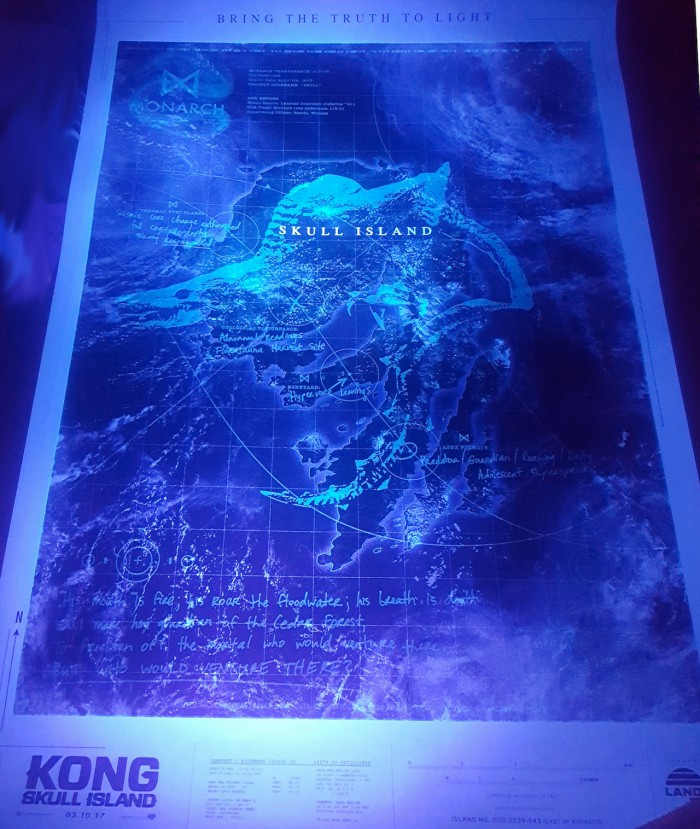 Thanks to ComingSoon for providing before and after images with the blacklight details. As you can see, there's the MONARCH logo in the upper left-hand corner, which should be a familiar name for anyone who saw the 2014 reboot of Godzilla. This indicates an expansion of the mythology that was created for the secret research program looking into the existence of these massive creatures.
There are annotations such as this ominous writing:
His mouth is fire; his roar the floodwater; his breath is death. Enlil made him guardian of the Cedar Forest, To frighten off the mortal who would venture there. BUT WHO WOULD VENTURE THERE?
Is this a reference to Kong himself or perhaps whatever that giant skeleton used to be? Maybe the research team arrives on Skull Island in search of something else, but what they stumble upon is King Kong. It could easily be a reference to Godzilla as well, perhaps implying that the King of Monsters originated in the same place that Kong did. The only thing we do know for sure is these notes were made by William Randa, the character played by John Goodman in the movie. He's part of a team that includes Tom Hiddleston, Samuel L. Jackson, Brie Larson, John C. Reilly and more.
There's a lot we still don't know about Kong: Skull Island, but with a release set for early next spring, we're bound to find out more soon. Since Warner Bros. Pictures has Fantastic Beasts and Where to Find Them coming in November, that would be a good time to unleash a new trailer showing off the other beast they have coming to the big screen next year. For more, check out DiscoverSkullIsland.com right here.
Warner Bros. Pictures and Legendary Pictures' "Kong: Skull Island" reimagines the origin of the mythic Kong in a compelling, original adventure from director Jordan Vogt-Roberts ("The Kings of Summer") and writers Max Borenstein, John Gatins, Dan Gilroy and Derek Connolly.
In the film, a diverse team of explorers is brought together to venture deep into an uncharted island in the Pacific – as beautiful as it is treacherous – unaware that they're crossing into the domain of the mythic Kong.
Kong: Skull Island opens in theaters on March 10, 2017.