Watch: 'Givertaker,' A Slick And Creepy Horror Short In The 'Goosebumps' And 'Fear Street' Mold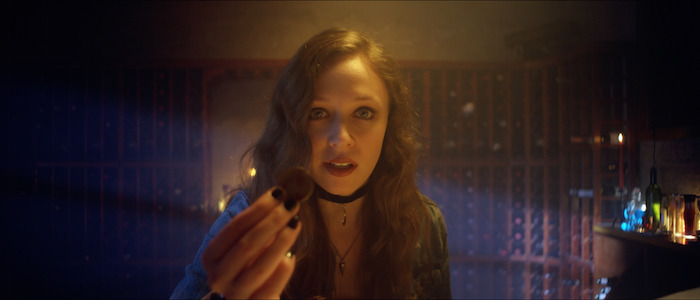 My love for movies was born out of my love for horror movies and my love for horror movies was born out of a childhood obsession with monsters and ghosts and whatever else goes bump in the night. Because of that, I'm a strong believer that kids (and young adults or whatever we want to call them these days) deserve quality genre entertainment. You don't necessarily want to subject an 11-year old to something truly grisly, but they also deserve access to horror stories that don't talk down to them or pull their punches.
And that's why the short film Givertaker scratches a very specific itch buried in the back of my brain. Here's a horror short that speaks the same language as the various books and movies that I devoured when I was younger, while also functioning as a clever and entertaining genre tale. And it's online and available to watch right now.
Full disclosure: I am friends with director Paul Gandersman and writer Peter Hall (no familial relation). However, I wouldn't be writing about this short if I didn't genuinely like it. If I didn't like it, I'd be avoiding eye contact and changing the subject during in-person conversations instead of publishing my thoughts here.
Givertaker wears its influences on its sleeve – the high concept, wry tone, and "twist" ending recall R.L. Stine and the nastier edge and the teen angst feel very much like Christopher Pike. But more than anything, the short feels like a slick and modern take on Nickelodeon's Are You Afraid of the Dark, the horror anthology series that crafted its fair share of nightmares amongst '90s kids. Like with Stranger Things and its love for '80s cinema, I think Givertaker finds a way to harness its love for '90s young adult horror in a way that is fresh and fun and just spooky enough.
When it initially premiered at Fantastic Fest, Givertaker was paired with A Dark Song, another movie built around an occult ritual gone horribly wrong. They ended up making for a wonderful double feature, with the petty teen characters of the short acting as a fascinating reflection of the more damaged adults in the feature that followed.
Givertaker is part one of a larger project called Dead Kids Club and I hope Paul Gandersman and Peter Hall get to tell more of the stories they've lined up under this particular umbrella. In the meantime, here's the film's poster, which is just about perfect.