'Luke Cage' May Have Heroes For Hire In Season 2, Mike Colter (Kind Of) Chooses A Side In 'Civil War'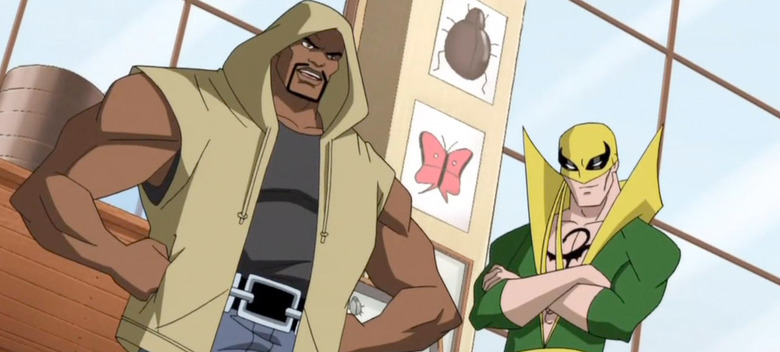 This weekend brings Luke Cage to Netflix, marking the third Marvel series to hit the streaming service, leaving just one more to debut before The Defenders can be formed. However, it turns out there may be another superhero team that we could see come to the small screen.
When you watch the first season of Luke Cage this weekend, showrunner Cheo Hodari Coker confirms that despite the forthcoming arrival of Iron Fist with his own series, we won't see Luke Cage and Iron Fist team up to become the Heroes for Hire. That's the small business venture in New York City that has the two superheroes offering the investigation and protection services. But even though this team isn't formed in the first season, if all goes well we could see that happen in season two.
In addition, Luke Cage star Mike Colter addresses which side the character would pick in the Marvel cinematic's universe's Civil War.
First up, let's address the potential for Heroes for Hire coming to fruition in the Marvel cinematic universe. While speaking to Decider, Cheo Hodari Coker said, "We don't go into Heroes for Hire in season 1 of Luke Cage — Luke Cage season 1 is ultimately about the evolution of a hero." But as for the team coming together in the second season — after Iron Fist (played by Finn Jones) has his own series — Coker didn't confirm, but he did tap dance a bit, mostly due to the fact that Luke Cage season 2 isn't a guarantee:
Well, I mean Finn Jones will be in the mix for The Defenders. In terms of Luke Cage, Netflix has to order a second season first. And trust me, I don't take any of this for granted because I mean there was no more sure thing than Vinyl.
We're not treating it as a one-off, and I'm confident people will dig the show, but, trust me, like season two, I've got a few ideas. But we really won't get ready until Netflix sees the viewership, and hopefully the subscriptions that will come from this show, and then they'll say, 'Let's get into it.'
Having a second season for Luke Cage introduce Heroes for Hire would be pretty great, and it could even serve as a makeshift second season for Iron Fist as well. But perhaps even more intriguing is that it could serve as a way to loop in some characters from the movies in the Marvel cinematic universe, as well as a newly introduced character from Agents of SHIELD.
There's an iteration of Heroes for Hire from 2010 which includes Ghost Rider, Black Widow, Falcon, The Punisher, Elektra and even Spider-Man. That iteration of the team doesn't include Luke Cage, though, so it doesn't sound like something that would be likely to happen in the second season of that character's own series. But then again, Marvel has shaken up lots of source material to be adapted into the Marvel cinematic universe, so maybe it's not out of the question.
At this point, I can't imagine there being that blatant of a crossover between the film and television sides of the Marvel cinematic universe, but I feel like eventually, Marvel will have to incorporate them all as their next big thing. Speaking of which, if Luke Cage had been involved in the recent big screen Civil War, which team would he have been on? Series star Mike Colter recently appeared at a live event for Empire Magazine and gave the perfect answer:
"Team Cap or Team Stark? Luke would be, 'Who's paying more?'" Mike Colter talks Luke Cage at #AAEmpireLive: pic.twitter.com/22pPrlRUUK

— Empire Magazine (@empiremagazine) September 24, 2016
Sounds like Luke Cage would probably end up being on Team Iron Man.