VOTD: 'Stranger Things' Kids Sing 'Uptown Funk' Before Emmys, Hand Out Sandwiches During Ceremony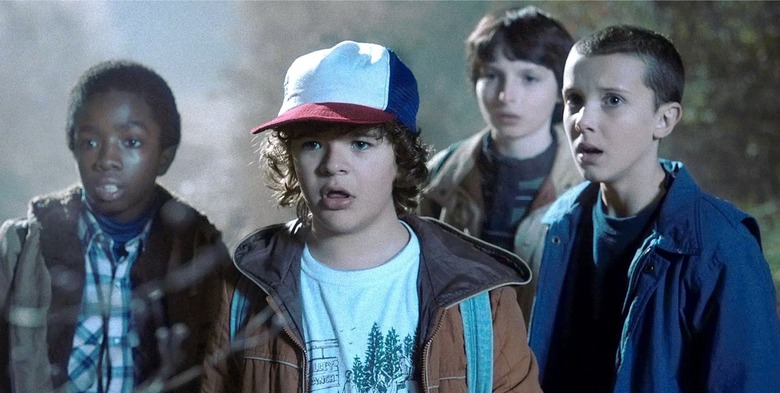 The 68th Annual Emmy Awards aired on ABC last night where Game of Thrones and The People v. O.J. Simpson: American Crime Story took home several big awards, with a variety of other shoes getting some trophies as well. But one show that wasn't vying for any awards last night was Stranger Things. Don't worry, it's not because the show wasn't nominated, but rather because it debuted after the window for eligibility for this year's awards. There's a good chance it will get some nominations next year though.
But just because Stranger Things wasn't nominated for any awards last night doesn't mean the show didn't have a presence at the awards. Before the opening of the Emmy ceremony with host Jimmy Kimmel featured an easter egg from the show, three of the child stars from Stranger Things took the stage (off the air) to sing a rendition of Bruno Mars' "Uptown Funk" to the crowd. Thankfully, someone was able to record the adorable musical number. Plus, Kimmel utilized the kids for a fun gag during the ceremony.
Watch the Stranger Things kids sing Uptown Funk and have some more fun after the jump.
Vulture was able to snag this video from before the Emmys started airing last night:
The kids from #StrangerThings performing "Uptown Funk" at the #Emmys preshow. pic.twitter.com/ORtBI9IsZh

— Vulture (@vulture) September 19, 2016
It's almost impossible to see in the video (though this appears to be the best one making the rounds online), but the kids on stage are Eleven (Millie Bobby Brown), Lucas (Caleb McLaughlin) and fan favorite Dustin (Gaten Matarazzo). And yes, that's them really singing. We're not sure why Mike (Finn Wolfhard) wasn't there, but we hope it doesn't have anything to do with The Upside Down.
But that's not all the kids from Stranger Things had to do last night. Jimmy Kimmel also brought them out to hand-deliver some sack lunches of peanut butter and jelly sandwiches prepared by his mother to the attendees of the ceremony. The kids were even in full wardrobe from Stranger Things. Check it out:
Sadly, there was still no sign of Barb, but I'm sure she would have wanted one of those sandwiches.