Celebrate The 40th Anniversary Of 'Carrie' With A 1970s Prom & Cast Reunion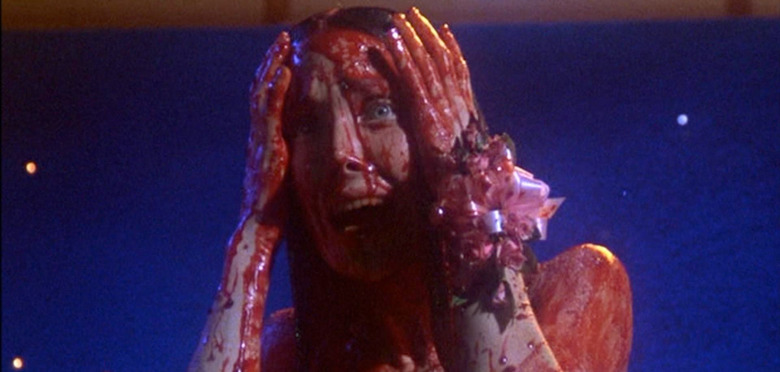 On November 3rd this year, it will have been 40 years since Brian De Palma's classic thriller Carrie, based on Stephen King's book of the same name, hit theaters. In honor of the 40th anniversary of the film starring Sissy Spacek, a special prom even is being put together by Scream Factory, who has a brand new two-disc special edition of Carrie coming out on October 11th.
Find out about the Carrie 40th anniversary prom after the jump.
Scream Factory, the horror division of Shout Factory, announced the event today as a collaboration with non-profit cancer support center weSPARK and the Theater at the Ace Hotel. The cancer support center just so happens to have Carrie co-star Nancy Allen on board as its executive director and she'll be part of a cast reunion at the Carrie 40th anniversary prom as well.
Other special guests at the event include Piper Laurie (The Hustler), William Katt (The Greatest American Hero), P.J. Soles (Halloween), editor Paul Hirsch (Star Wars: Episode IV) and casting director Harriett B. Helberg (The Jazz Singer). They'll participate in a Q&A moderated by Star Trek Discovery and Hannibal executive producer Bryan Fuller.
The only downside is this event is happening only in Los Angeles at the Ace Theater, which will be transformed into a 1970s prom with attendees encouraged to dress as if they were attending the special formal dance in that decade. But if you live in the area or happen to be in town when it happens on October 14th, general admission is only $25, and your ticket includes a prom-themed after party.
For the bigger Carrie fans, there is a $75 preferred ticket that will get you an exclusive Carrie poster, the Scream Factory Blu-ray and a photo op. Or there's also the $125 ticket that gets you VIP seating on top of all that other stuff as well as a special private pre-party. You can get your tickets right here, right now.