Character Actor And Coen Brothers Regular Jon Polito Dead At 65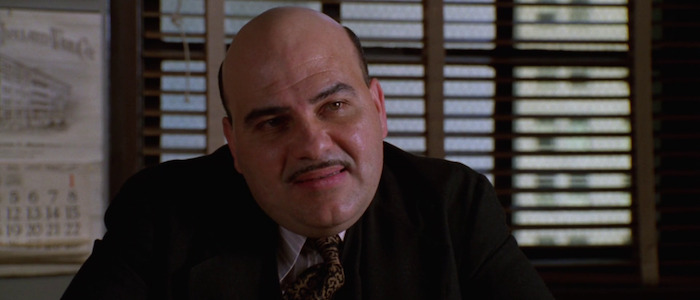 Character actor Jon Polito, the instantly recognizable character actor who lent his unique presence to countless films and television shows, has passed away at the age of 65. While he was never a household name, you'd be hard-pressed to find anyone with a passing interest in popular culture who hasn't seen him in half a dozen different projects.
The news of Polito's death was revealed on Facebook by his friend, director John McNaughton, who wrote:
Very sad to learn that my dear friend and collaborator, Jon Polito has passed away. John is probably best known for his work in Coen Brothers films, notably Barton Fink, Miller's Crossing and The Big Lebowski. Jon and I worked together in TV starting with episodes of Homicide: Life on the Street, some pilots and Masters of Horror. He appeared in over 100 films, countless TV episodes and on Broadway. Jon was a born actor and will be deeply missed by his legion of friends, fans, family and of course his long time partner, Darryl Armbruster to whom I send my condolences. R.I.P. old pal...
Born on December 29, 1950, Polito's first credit came in the 1981 television miniseries The Gangster Chronicles, the first of many times he'd play a member of the criminal element, although he'd also play his fair share of cops and investigators. He spent the '80s playing supporting roles in everything from Highlander to C.H.U.D. (and guest starring on shows like The Equalizer and Miami Vice), but his big breakthrough arrived in the early '90s, when he appeared in two back-to-back films from Joel and Ethan Coen. His work as a sleazy movie studio employee in Barton Fink is exceptional, but his role as the temperamental crime boss Johnny Caspar in Miller's Crossing is a standout performance in a movie full of natural born scene-stealers.
Polito would collaborate with the Coen brothers three more times, playing roles in The Hudsucker Proxy, The Big Lebowski, and The Man Who Wasn't There.
For television fans, Polito is perhaps best known for playing Steve Crosetti in Homicide: Life on the Street. When his character was written out of the show against his wishes, Polito was famously and loudly unhappy with the decision. His more recent television credits include It's Always Sunny in Philadelphia, Modern Family, Murder in the First, and Bunheads.
Polito is survived by his partner Darryl Armbruster...and by the fact that you can't help but stumble over one of his performances in a couple hundred movies and TV episodes.