'Stranger Things' Officially Renewed For Season 2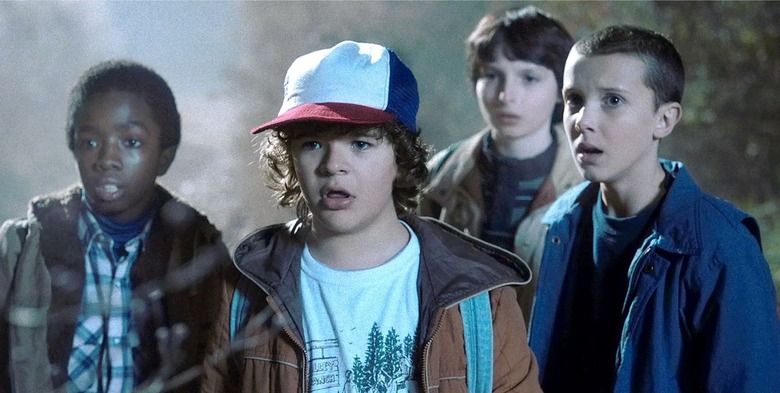 To date, one of the strangest things about Stranger Things has been the lack of a renewal. Netflix has been known to renew just about everything, sometimes even before the season one premiere, and Stranger Things is believed to be one of the most-watched Netflix original series of all time. It seemed just plain odd that, a full month after Stranger Things' debut, the service hadn't gotten around to re-upping it.
Well, today they finally have. Netflix has officially announced that Stranger Things season 2 will be coming in 2017, and they've even shared the first little teaser trailer. Get all the Stranger Things season 2 details below. 
The first Stranger Things season 2 teaser doesn't have any footage — it's really just a variation on the regular title sequence. But given how gaga fans are for that retro font, I'm guessing most of you won't mind. Besides, those cryptic phrases should keep you busy figuring out what they mean. What pumpkin patch? Who's the lost brother?
The Duffer brothers have made no secret of their hopes of returning for a second season, and Variety reports work is already underway on the next run of episodes. Season 2 will have nine episodes, compared to eight for the first season. Matt and Ross Duffer will return as writers and executive producers. Shawn Levy and Dan Cohen are also back as executive producers.
As revealed by the teaser, Stranger Things season 2 will arrive in 2017 and pick up one year after we last left Hawkins, Indiana. No casting has been confirmed, but the show is expected to follow many of the same leads from season 1. In addition, the Duffers revealed to Entertainment Weekly that the upcoming episodes will introduce four new characters and venture outside of Hawkins to new locations. As for what new '80s references we'll get to enjoy, well, we'll just have to wait and see.