'Transformers: The Last Knight' Story Rumor Confirmed As Production Moves To United Kingdom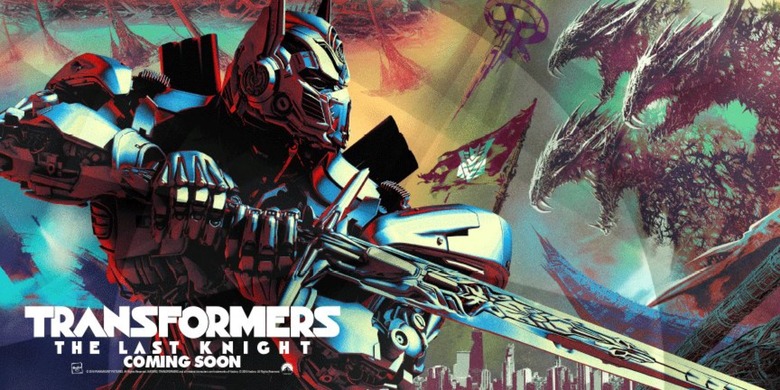 Even though Transformers: The Last Knight has been in production for a while now, we're still very much in the dark when it comes to the story of the latest franchise sequel directed by Michael Bay. We'll be able to fill in some gaps when the embargo from our set visit a little while ago is up (it keeps getting pushed back for the time being), but in the meantime, a major story rumor about the film appears to be confirmed with production moving to the United Kingdom. But since it ventures into spoiler territory, we'll discuss the Transformers The Last Knight story below.
The rumor in question from JoBlo (which we reported in Sequel Bits back in June) said that The Last Knight would find Optimus Prime returning to Cybertron (as hinted at  in the conclusion of Transformers: Age of Extinction), only to discover that it's in shambles, and it somehow might be his own fault. In order to fix his planet, he needs some kind of artifact. Wouldn't you know it, the artifact is back on Earth, and it just so happens to be the item that gave Merlin his powers during Arthurian times.
Now it appears that some kind of tie to that ancient period in time has been confirmed as production on Transformers: The Last Knight has moved to the United Kingdom with BBC snagging some set photos that show actors wearing medieval garb and riding horses. So it appears there will be some kind of flashback, likely to establish that the Transformers are an even bigger part of global history than initially thought. Michael Bay even posted an Instagram video from the set in Scotland, and of course there's a helicopter involved:
Filming resumes. UK. Transformers
A video posted by Michael Bay (@michaelbay) on
It seems silly to think about Transformers in Arthurian times. After all, what would they transform into? Giant mechanical horses? Catapults? Trebuchets? But by making them part of the past like this, it expands the mythology of the mechanical aliens, which will likely be very important with the plans for an expanded cinematic universe ready to unfold in the coming years. But as far as the Merlin details are concerned, we don't have any specific confirmation on that front.
Still, since the film is called Transformers: The Last Knight, it makes sense that there would be ties to arguably the most famous knights of all time. However, when it comes to the artifact in question, despite the importance of swords when it comes to the history of Transformers, I don't think Excalibur will be the MacGuffin, especially if there are ties to Merlin. But we'll just have to be patient to get more clear details.