'La La Land' Trailer: Emma Stone Auditions With A Wistful New Song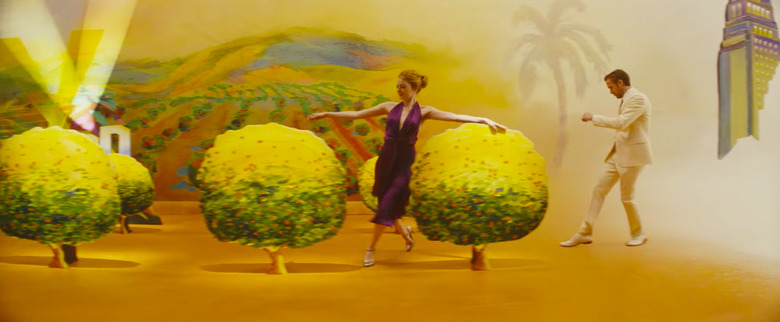 The first trailer for Damien Chazelle's La La Land treated us to the musical stylings of Ryan Gosling, as he sang the poignant ballad "City of Stars." The new one puts Emma Stone in the spotlight, as she performs the equally wistful "Audition."
Stone and Gosling play a couple of striving artists — she an actress, he a musician — who meet and fall for each other in Los Angeles. Though the film is set in the present day, there's an unmistakably old-fashioned feel to it, from the colorful sets to the fanciful dance sequences. The very idea of releasing a classic movie musical in 2016 may seem kind of nuts, but just as Stone sings, "Here's to the ones that dream, foolish as they may seem." Watch the latest La La Land trailer below. 
La La Land Trailer
It's rare to see a full-on romance or a true musical these days, let alone a film that's both. For that alone, La La Land has our attention. Toss in the sizzling chemistry between Stone and Gosling (who previously played love interests in Crazy, Stupid, Love. and Gangster Squad), and the confident direction of Whiplash filmmaker Chazelle, and you've got one of our most anticipated films of the year. Heck, between "Audition" and "City of Stars," La La Land may also be one of our most anticipated albums of the year.
La La Land opens December 2. Also starring are John Legend, Rosemarie DeWitt, Finn Wittrock, Callie Hernandez, Sonoya Mizuno, Jessica Rothe, Tom Everett Scott, and Josh Pence.
Written and directed by Academy Award® nominee Damien Chazelle, LA LA LAND tells the story of Mia [Emma Stone], an aspiring actress, and Sebastian [Ryan Gosling], a dedicated jazz musician, who are struggling to make ends meet in a city known for crushing hopes and breaking hearts. Set in modern day Los Angeles, this original musical about everyday life explores the joy and pain of pursuing your dreams.