'Silence' May Be Martin Scorsese's Longest Film Yet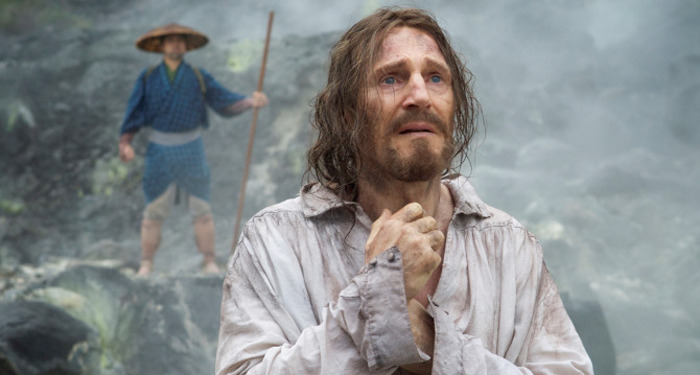 While we're waiting to see if Martin Scorsese's long-gestating film The Irishman will actually come together next year to bring Al Pacino, Robert De Niro and Joe Pesci together, we have some news regarding the movie that The Departed director already has in the can for this year.
Silence has been a passion project of Martin Scorsese's for 20 years, and so far all we've seen from the movie are a couple images from 2015 with stars Liam Neeson and Andrew Garfield. But it sounds like once the movie hits theaters (which is expected before the end of the year) there will be plenty to see, because the film could be Martin Scorsese's longest movie yet.
Find out the Silence runtime after the jump.
First, for those who haven't kept up with Silence, here's the synopsis from the book:
Young Portuguese Jesuit Sebastião Rodrigues is sent to Japan to succor the local Church and investigate reports that his mentor, Fr. Cristóvão Ferreira, has committed apostasy. (Ferreira is a historical figure, who apostatized after torture and later married a Japanese woman and wrote a treatise against Christianity.)
Fr. Rodrigues and his companion Fr. Francisco Garrpe arrive in Japan in 1638. There they find the local Christian population driven underground. Security officials force suspected Christians to trample on fumie, which are crudely carved images of Christ. Those who refuse are imprisoned and killed. The novel relates the trials of the Christians and increasing hardship suffered by Rodrigues, as more is learnt about the circumstances of Ferreira's apostasy.
Variety reporter Kris Tapley took to Twitter with a little guessing game (via The Playlist):
195 minutes

— Dani Mantilla (@danielmmantilla) August 18, 2016
Tapley confirmed that the above answers of 3 hours and 15 minutes hit the nail right on the head, which would make Silence the longest movie Scorsese has ever made. If you don't count the George Harrison documentary Scorsese made (which is technically a two-part film anyway), The Wolf of Wall Street most recently set the record at 3 hours while before that Casino was Scorsese's longest film at 2 hours and 58 minutes. However, there's a chance that 195 minutes might not be the final running time for the movie, because picture isn't locked yet, though Scorsese expects that to be done in October.
You might recall that the original cut of Gangs of New York was 3 hours and 36 minutes, but Harvey Weinstein was able to convince him to cut it down to 2 hours and 47 minutes. Therefore, Paramount Pictures may aim to get Scorsese to cut down the film to a length that's more palatable for general audiences. Plus, the shorter a movie is, the more times it can play at a multiplex for maximum box office potential.
Frankly, with Martin Scorsese getting up there in the years with his 74th birthday around the corner this fall, I'd rather get as much as we can out of the director. For most cinephiles, a Scorsese movie that's over 3 hours long is a gift, especially one that the director has been trying to make for 20 years. So if the movie ends up being the longest in Scorsese's career, then I can't wait to see it.