'Hands Of Stone' Red Band Trailer: This Boxing Drama Apparently Has A Lot Of Sex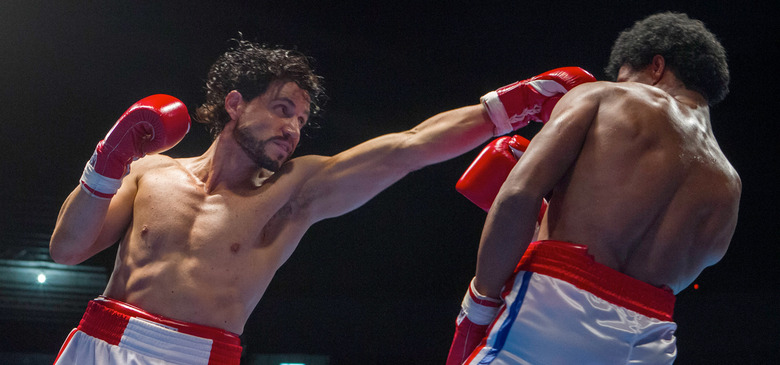 Just like last year brought us both Southpaw and Creed, this year we get two more boxing dramas. However, while last year's stories set in the ring were entirely fictional, this year we get two non-fiction boxing movie. Bleed for This starring Miles Teller won't arrive until November (watch the trailer here), but the other is arriving in theaters next week.
Hands of Stone follows Edgar Ramirez (Deliver Us from Evil, Point Break) as Panamanian fighter Roberto Duran who once defeated iconic boxer Sugar Ray Leonard (Usher Raymond) in 1980, but abandoned a rematch a few months later. It was one of the most famous face-offs in boxing history, so knowing that story detail doesn't spoil anything like the most interesting parts of the story come from the boxers themselves.
A new red band Hands of Stone trailer teases what's in store for audiences. However, it's a bit of an odd one because the reason it's a red band trailer is due to some explicit sex scenes being features. They just seem out of place as if they're trying to pull in moviegoers who just want to see nudity.
Here is the new red band Hands of Stone trailer from The Weinstein Company:
If there's a movie isn't a straight-up love story, there's always some kind of shot in the trailer of the characters kissing or embracing passionately to illustrate that there's still some romance involved. But these sex scenes just feel gratuitous, even giving off the vibe of desperation to sell tickets to those who want to see Edgar Ramirez, Usher Raymond and Ana de Armas (War Dogs) in the buff. But don't expect Robert De Niro to get naked as trainer Ray Arcel.
Hopefully, the American film debut of Venezuelan writer and director Jonathan Jakubowicz offers compelling portraits of both Roberto Duran and Sugar Ray Leonard to go along with the story of the famous "No Mas" boxing match that sports fans are familiar with. If not, there's a 30 for 30 documentary called No Más which tells the fascinating story of their rematch by pointing out some very strange details and unanswered questions.
If you want to see more from Hands of Stone, watch the previous trailer right here.
HANDS OF STONE follows the life of Roberto Durán (Edgar Ramirez), the Panamanian fighter who made his professional debut in 1968 as a 16-year-old and retired in 2002 at the age of 50. In June 1980, he defeated Sugar Ray Leonard (Usher Raymond) to capture the WBC welterweight title, but shocked the boxing world by returning to his corner in their November rematch, famously saying the words "no mas" (no more.)
Hands of Stone opens in theaters August 27th.