'Jumanji' Is A Sequel, Not A Reboot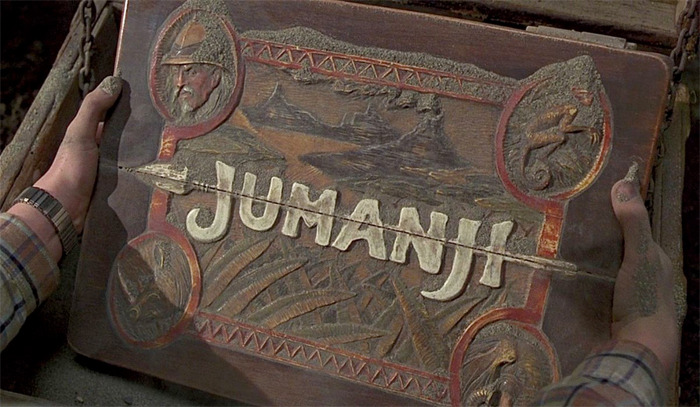 Dwayne Johnson and Kevin Hart have been confirmed to star in a new take on Jumanji at Sony Pictures for a little while now. Also, the Central Intelligence duo will be joined by Jack Black, as well as Nick Jonas supposedly continuing to broaden his acting career with a role as well. Now as the film moves closer to starting production, a new detail has emerged that changes our perspective of the movie a little bit.
According to a recent social media update by Dwayne Johnson, the new Jumanji isn't a reboot, and it might be more of a legacy-quel instead. Get the details below.
In a new Instagram post, Dwayne Johnson confirmed that he had wrapped production on Fast 8, and as had become customary when the actor finished a project, he confirmed what's next. Here's the important part of Johnson's post in question which tells us that this is a Jumanji sequel on the way:
"And now in two weeks I'll reunite with ol' friends Kevin Hart & Jack Black and we have the honor to introduce a whole new generation to the amazing world of #JUMANJI. *(for the record we are NOT making a reboot, but rather a continuation of the awesome JUMANJI story). It's also crazy to me how much me, Kev and Jack look like triplets when we're together... Man this is gonna be FUN."
In addition to revealing the impending production start, Johnson says that this is a continuation of the original Jumanji story. That's not hard to accomplish since it will have been 22 years since the original film arrived. In fact, the original Jumanji hinted at a sequel with the game washing up on a beach somewhere with two girls approaching the game buried in the sand. More than likely, our new characters will end up encountering the game by accident just as Alan Parrish did in the original movie.
We thought there might be a chance that the new Jumanji would keep the original film's mythology intact since Johnson previously said the new movie would honor and respect the film's star, the late Robin Williams:
"An important thing that I want to be honest and bring up is Robin Williams. The love and respect I have for this man is boundless. You have my word, we will honor his name and the character of "Alan Parrish" will stand alone and be forever immortalized in the world of Jumanji in an earnest and cool way. I have an idea of what to do and I think his family will be proud. I also think Robin is somewhere lookin' down and laughing, remembering the first time we met backstage and I (for the first time ever) was a star struck bumbling idiot that couldn't even get my words out. Idiot. He literally calmed me down w/ that smile and laugh. But that's for another fun story down the road."
With production getting close, hopefully, some new details on the project will emerge sooner than later. Jake Kasdan (Bad Teacher, Sex Tape, Walk Hard: The Dewey Cox Story) will direct with a script from Con-Air and High Fidelity scribe Scott Rosenberg. Jumanji is slated to hit theaters on July 28, 2017.