Jonah Hill Describes What It's Like To Be Directed By Martin Scorsese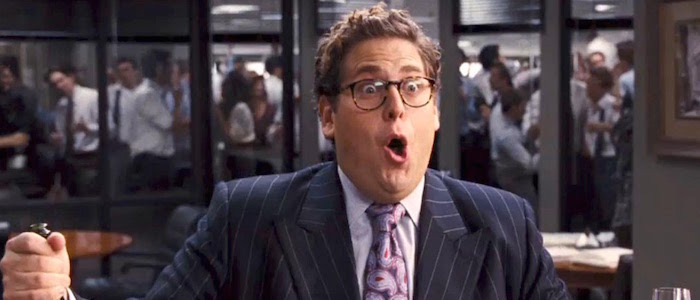 We place the great artists on pedestals. We like to look at the finished work, whether it be a painting or an album or a movie, and discuss the intentions of the creator. The author, the sculptor, and the film director  are often enigmas in the eyes of those who take in they work. How they achieve the end results, their actual process, is so often a mystery to those outside of their cast and crew.
So yes, listening to Jonah Hill talk about being directed by Martin Scorsese (a textbook definition of the phrase "living legend") on the set of The Wolf of Wall Street is something you may need in your life.
Hill was recently a guest on Any Given Wednesday with Bill Simmons, where he was asked about working under the direction of the man responsible for masterpieces like Taxi Driver and Goodfellas. Hill, who received an Oscar nomination for his work in the film, shared a detailed story about how Scorsese gently pushed him into the right position following a series of takes that weren't up to snuff. It's the kind of anecdote where the director could come off like a total brat, but this is one of the all-time greats we're talking about. He knows what gets results.
You can watch the entire story right here:
For those who don't remember The Wolf of Wall Street, here is the scene Jonah Hill is referring to in that clip.
While Jonah Hill off running guns with Miles Teller in the just-released War Dogs, Scorsese is hard at work on Silence, his adaptation of Shusaku Endo's novel about 17th century Jesuit priests who journey across Japan in search of their mentor. The film doesn't have a release date yet, but considering the talent involved (and a cast that includes Liam Neeson, Andrew Garfield, and Adam Driver), we can probably expect it to be a major Oscar contender later this year. Oh, and it's also reportedly 195 minutes long.