UPDATED: 'Inside Amy Schumer' Has Not Been Canceled, It's Just On Hiatus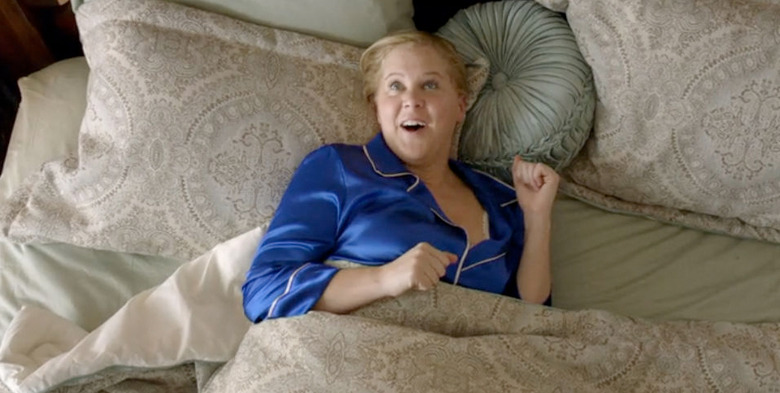 We may receive a commission on purchases made from links.
UPDATED: Amy Schumer has clarified her comments about the show. You can read them after the jump.
Even though Comedy Central's hit sketch series Inside Amy Schumer was renewed for a fifth season back in January, it appears there may no longer be a future for the show at all. Amy Schumer hinted that the show may no longer exist in a post on Twitter responding to a recent controversy involving a fellow comedian who also happens to be a writer on her show.
Get the details on this developing story about Inside Amy Schumer canceled after the jump.
If you don't keep up on the controversies in the comedy world, there's been one unfolding on social media. Comedian Kurt Metzger made some inflammatory comments about a rape accusation concerning an unnamed comedian in New York City who has been banned from performing at the Upright Citizens Brigade theater. We're not going to dive into his comments about rape, because that's an entirely different conversation. Metzger has already (somewhat) apologized for and backtracked on his statements, and it's just not something we need to get into right here.
So how does this tie in to Amy Schumer? Well, plenty of outlets were foaming at the mouth to get a statement from Amy Schumer regarding the statement made by a comedian who had been credited with writing on her show. Schumer posted this to begin with:
I am so saddened and disappointed in Kurt Metzger. He is my friend and a great writer and I couldn't be more against his recent actions.

— Amy Schumer (@amyschumer) August 17, 2016
Then almost two hours later, she was sick of getting asked for another statement about the matter and posted this:
Kurt does not work for me. He is not a writer on my show. Please stop asking me about it. His words are not mine.

— Amy Schumer (@amyschumer) August 17, 2016
Seriously, we need to stop making others responsible for what someone else says. While a statement from Schumer on the matter might seem interesting, it's also totally unnecessary and to keep badgering the comedian for a response is just ridiculous. However, since she went out of her way to sat Metzger wasn't a writer on her show (though he had been before), some were wondering if he had been fired because of his statements or simply wasn't writing for the show anymore. Schumer clarified late last night:
Well, that's certainly an interesting development. As we said before, Comedy Central had already renewed Inside Amy Schumer for a fifth season. So does this mean Schumer decided to exit her show when it's at its most popular, just like Dave Chappelle did some years ago? That's certainly a possibility, but she could also just be saying they're not making the show right now, and thus no one is working on it.
Right now Schumer is promoting her new book, The Girl with the Lower Back Tattoo, and has a massive stand-up tour that begins later this month, keeping her busy all around the world until the end of the year. Therefore, pre-production on the show likely wouldn't be able to begin until early 2017. So maybe her comments are regarding a lack of work on the show for the time being.
At the same time, Schumer's career has been blowing up since her feature film debut with Trainwreck. She just wrapped a new comedy that she stars in alongside Goldie Hawn, and she's supposed to star in another film with Jennifer Lawrence as well, not to mention taking a serious role in Thank You For Your Service. So maybe sticking with the sketch series at Comedy Central wasn't the best career move for her at this time. Or perhaps Comedy Central is cool with her letting come back to the show whenever she wants.
UPDATE: As we speculated above, Inside Amy Schumer has not been canceled, but is merely on hiatus. Amy Schumer posted a few updates to Twitter that we've rounded up:
"Inside Amy Schumer is not cancelled. Comedy Central has provided us with a wonderful home and we couldn't be happier there. I am just touring, ding standup and focusing on writing more for the next year at least. We are slated for a season 5 but not in the foreseeable future. I'm grateful Comedy Central is giving me this time to work on other projects. Now please grab my book The Girl with the Lower Back Tattoo for now."
So Comedy Central is just letting Amy Schumer come back to the show in her own time, not unlike HBO letting Larry David do Curb Your Enthusiasm whenever he feels like it. I wonder if this is a new approach we'll see to shows that don't really require a dedicated season like this every year. It could result in less shows being canceled in the future.