Rogue One Bits: New Saw Gerrera And Jyn Erso Details, New U-Wing Toy, And A Few Fan-Made Trailers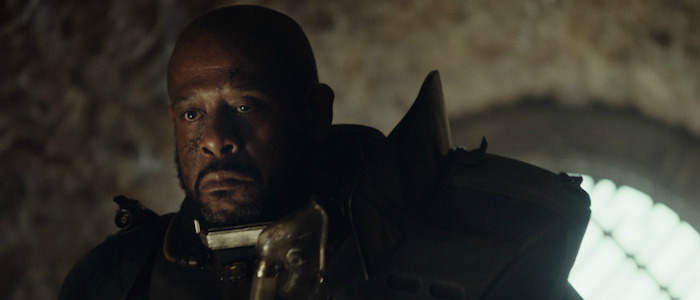 In this edition of Rogue One Bits:
Details on the massive launch of the Rogue One: A Star Wars Story trailer.
Forest Whitaker explains why Saw Gerrera is like Darth Vader.
Felicity Jones and Gareth Edwards talk Jyn Erso.
Two fan-made trailers have already arrived in the wake of the new official preview.
A very close look at one of Rogue One's most intriguing images.
Natalie Portman and screenwriter Gary Whitta visited the set.
A first look at the new U-Wing toy.
Forest Whitaker sat down with Entertainment Weekly to talk about his role as Saw Gerrera in Rogue One and he dropped this interesting tidbit – his Rebel extremist is more like Darth Vader than you'd think:
There are some similarities. I don't know if I should tell you that.
He is, of course, referring to how they are both willing to go to extreme measures to get the job done, but the similarities do go beyond that. Like Vader, Saw is reliant on his bulky metal suit to keep him alive:
This is his armored suit for flight, but also for maintenance. He's been through many conflicts and many wars, so it's also about [repairing] some of the many injuries he's had. He wears it all the time.
But unlike Darth Vader, Saw has friends and allies, namely Felicity Jones' Jyn Erso:
He's really close to her, and they have a very powerful relationship. He's talking about how you maybe make compromises that may harm people, or may harm the situation, or people may question it, but if you're doing it for the good, there's a positive thing about that. But what does it make you become? And how do you change as a person?
So there you go! Now you know exactly what he's going on about in that first trailer.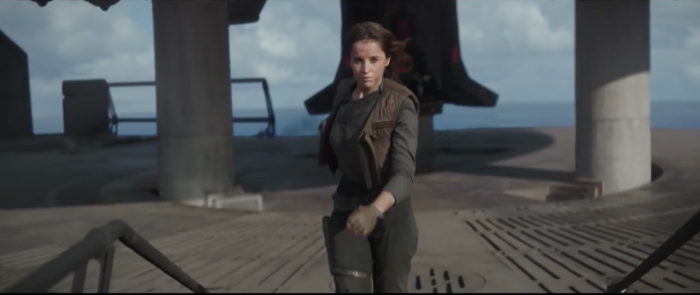 Speaking of Jyn, Entertainment Weekly also has a new article all about Rogue One's lead character. Here's director Gareth Edwards on why he cast Jones, who doesn't look like your typical action hero, as a badass Rebel soldier:
There were a lot of people who could learn how to fight and beat people up and do the physical side of it. For me, the most interesting thing is when there's a crack in the armor, when you can glimpse the vulnerability in someone. You can just hang the camera on Felicity and not say a word, and you can feel her having a million different thoughts. You get interested in what she's thinking and what's going on. She can be very observant within a scene. It doesn't always have to be about her directly, but we're experiencing it through her. She just has that knack for pulling you in.
Jones herself spoke about the female members of the Rebel Alliance and how it's an equal opportunity group that just so happens to be led by a powerful woman:
I would say there's a huge amount of respect for women in the Rebellion. Mon Mothma is ultimately, for Jyn, someone she looks up to. So even as the film opens [Jyn] has a very strong female role model in front of her, and someone she respects.
Daisy Ridley's Rey set the bar high for new female heroes in Star Wars movies, but Jyn sounds like a very different kind of character, the daring rogue to Rey's innocent warrior.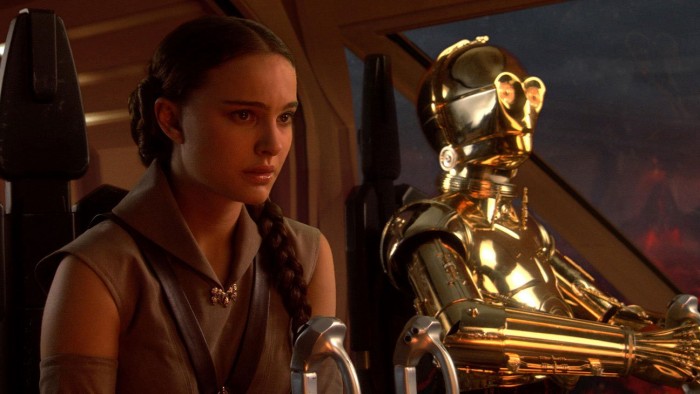 And while we're on the subject of the women of the Star Wars universe... The LA Times has published an article about Natalie Portman and her directorial debut, A Tale of Love and Darkness, but the piece also contains a morsel about how the former Padmé Amidala is staying in the Star Wars family:
She had just returned from London, where she was filming Annihilation at Pinewood Studios, on stages adjacent to where the next two Star Wars movies were in production. Portman, who many moviegoers first encountered as Padmé Amidala in the Star Wars prequels, said she enjoyed visiting the sets of Rogue One and Episode VIII.
"It's fun to see that [Star Wars] lives on, and now having a little boy, I see how deeply it lives in kids' culture," she said, noting that [her five year old son] Aleph has not seen any of the films but is familiar with the characters because of Star Wars Lego games. "He's very Yoda-centric."
Perhaps the nerdiest thing I own – a jar of sand from the beaches of Scarif 🤓 #RogueOne pic.twitter.com/nuMY0mIaai

— Gary Whitta the Creator (@garywhitta) August 15, 2016
Because we're talking about people visiting the set of Rogue One, here's a fun Tweet from screenwriter Gary Whitta, where he reveals the tiny piece of the film that he has in his possession.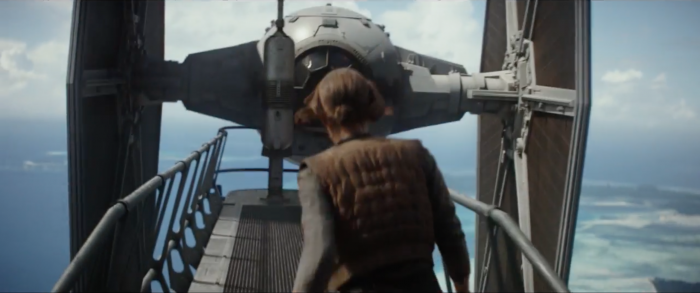 As expected, the launch of the latest Rogue One trailer was huge, but Deadline has the details on just how huge:
RelishMix reports that the brand new Rogue One: A Star Wars Story trailer that Disney dropped during the Rio Olympics on Thursday night is beginning to build up steam, going viral at a rate of 25:1. Know that a ratio of 10:1 is average for a trailer. After a full day in circulation, and through today, online views for the Gareth Edwards-directed prequel are at 34.2M, comprised of 14M-plus coming from the Star Was YouTube channel, and another 16M from Facebook.
So yes, people are always going to click on a new trailer when Star Wars is in the title. However, considering just how many of the world's non-geeks looked at Jyn Erso and asked why Rey looks so different, Lucasfilm and Disney still have their work cut out for them.
God bless fans with too much time on their hands and too much talent to sit idly by while the rest of us schmucks just talk about how much we like Star Wars. YouTuber Medley Weaver has recut footage from The Empire Strikes Back into a trailer in the same style as Rogue One. The menacing tone of the new trailer serves Empire, with its increasingly claustrophobic and relentless storytelling, quite well.
And then there's the "Rogue One Super Trailer" from Star Wars Alert, which combines footage from both trailers, the Celebration Sizzle Reel, the Celebration Archaeology Panel, the original 1977 Star Wars, and even the Star Wars Radio Drama to create one gigantic four-and-a-half-minute preview.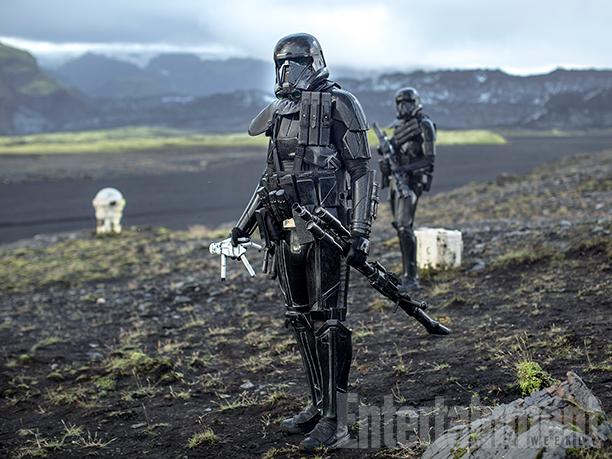 Remember that odd image of the Death Trooper standing in a desolate field, holding a small toy Stormtrooper? It's that one right above this paragraph, just in case you forgot about it. Anyway, Star Wars News Net has dug through the released footage and interviews and has seemingly assembled the doll's place in the story. The short version: it probably belonged to a young Jyn Erso and it was left behind when she fled her home as her father, Galen (Mads Mikkelsen), was captured by the Empire and forced to build the Death Star years before the main action of Rogue One. For a full rundown (and photographic evidence!), follow that link above. If true (and it certainly sounds true), Rogue One will officially be the first Star Wars movie to feature extensive flashbacks.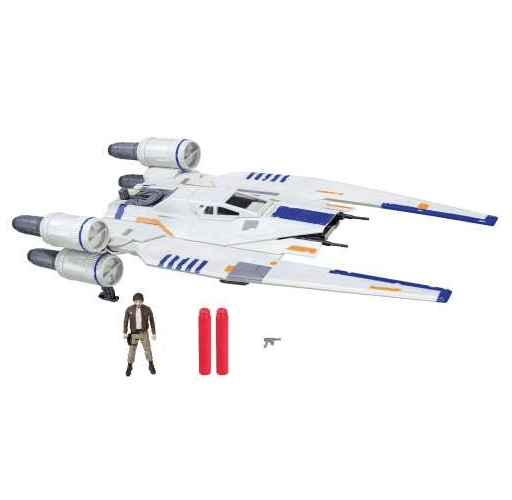 You may not be able to buy an exact replica of Jyn's Stormtrooper doll (at least not yet), but this year's Force Friday will allow you to pick up a U-Wing toy that comes packaged with a tiny plastic Cassian Andor. Although the details of "Rogue Friday" are being guarded, details about the merchandise available at this year's event keep on creeping out. Anyway, the Cassian figure will come equipped with a blaster an the ship itself will come equipped with two Nerf darts, as that is standard Rebel ordinance.
All wings, report in... The first of Empire's #RogueOne covers will be revealed on Thursday. pic.twitter.com/zUMY7WTii8

— Empire Magazine (@empiremagazine) August 16, 2016
Are you really a major release unless you get a series of Empire Magazine covers? Rogue One will soon grace the cover of the popular film publication and the first of the covers is set to be revealed on Thursday, August 18, 2016.