'Arrival' First Look: Amy Adams And Jeremy Renner Science Their Way Through First Contact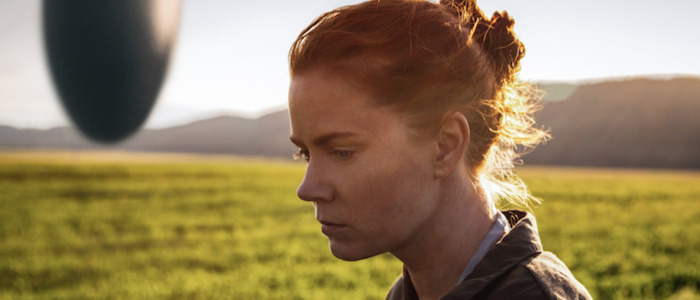 Arrival was lurking under the radar until earlier this year, when the first footage from Denis Villeneuve's new science fiction drama played at CinemaCon in Las Vegas and left quite an impression. And then it continued to lurk under the radar as few updates emerged (other than a title change) and no trailers arrived as we got closer and closer to the film's fall release date.
While we have to keep on waiting for a trailer, the first official images from the film have been released, offering us our first look at stars Amy Adams and Jeremy Renner.
And, well, they look like Amy Adams and Jeremy Renner! Which isn't a bad thing if you happen to enjoy watching these two on screen (which you should). However, one of the stills does feature a tiny glimpse at one of the alien spaceships that arrive on Earth, triggering the film's plot. Adams plays Louise Banks, a linguist who is hired by the United States government to decipher these mysterious visitors' language and make first contact. Renner plays Ian Donnelly, a physicist brought on board to assist Banks with her work. USA Today debuted the photos and that's also where Renner described the "great challenge" of playing a "smart nerdy guy," just in case you're in need of an accidental chuckle today.
In another quote, Adams doubled down on the great appeal of Arrival – it's a hard science fiction story set in the real world, not a space opera or an Independence Day riff:
This isn't a graphic-novel universe or creating a new universe. This happens in our world today, as it exists. Not having to transport myself to a universe where superheroes exist, which is also fun, really helped me ground the character and the experience.
Renner also touched on the film's emotional core, saying that the film balances emotion with the thrills:
If you're a parent, it's going to wreck you. It's big and there are thriller elements and tension, but it's going to lean much more into a thinking person's film.
If the blend of big science fiction ideas and raw emotion reminds you of Robert Zemeckis' Contact, you're not alone. Welcome to the club. And if you happen to think that Contact is one of the best science fiction movies ever made and hope that Arrival will scratch that same itch...welcome to the club again. After Enemy, Prisoners, and Sicario, I'm prepared to follow Denis Villeneuve down the rabbit hole of his choosing, especially if it's a rabbit hole build around thoughtful, adult sci-fi.
Arrival is set to open on November 11, 2016.