'Moana' Extended TV Spot Introduces Fiery Villain The Lava Witch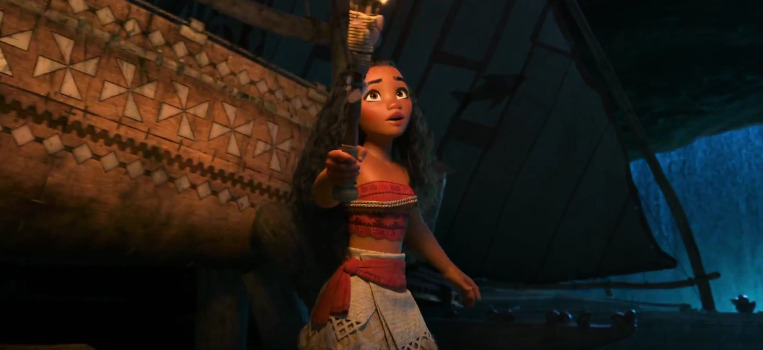 Since all eyes are on the Olympics, you can expect plenty of new teasers for forthcoming movies to arrive on television so studios an reach the biggest possible audience. There's a new trailer for Rogue One: A Star Wars Story coming this week, and this weekend also brings a new glimpse of Walt Disney Animations Studios' latest adventure, Moana.
Just a couple weeks ago, we met almost all of the key characters of Moana voiced by Auli'i Cravalho, Dwayne Johnson, Jemaine Clement, Rachel House, Temuera Morrison, Alan Tudyk and Nicole Scherzinger. Now we get to meet a character we've only seen in concept art, and it's fiery lava monster, who appears to be some kind of witch that gives our titular character and her new demigod friend Maui some trouble on the sea.
Watch the extended Moana TV spot after the jump.
In addition to giving us a good shot of the villain, the new TV spot also shows off a little more of the unique abilities that Maui has as a demigod. The first teaser trailer for Moana showed that he can turn into a large bird, and we get to see how he uses that to his advantage here in this spot. Plus, it looks like there's going to be some decent comedy that comes from his magical, illustrative tattoos all overt his body. In addition, it looks like his massive fish hook spear harnesses some extra powers as well.
As for Moana, she gets some heroic moments of her ow, because this is her quest to become a master wayfinder after all. One action shot sees her leaping through the air and chucking a spear at an unseen threat. Plus, it looks like she's the one pushing Maui to go on this adventure.
Three thousand years ago, the greatest sailors in the world voyaged across the vast Pacific, discovering the many islands of Oceania. But then, for a millennium, their voyages stopped – and no one knows why. From Walt Disney Animation Studios comes "Moana," a sweeping, CG-animated feature film about an adventurous teenager who sails out on a daring mission to save her people. During her journey, Moana (voice of Auli?i Cravalho) meets the mighty demigod Maui (voice of Dwayne Johnson), who guides her in her quest to become a master wayfinder. Together, they sail across the open ocean on an action-packed voyage, encountering enormous monsters and impossible odds, and along the way, Moana fulfills the ancient quest of her ancestors and discovers the one thing she's always sought: her own identity. Directed by the renowned filmmaking team of Ron Clements and John Musker ("The Little Mermaid," "Aladdin," "The Princess & the Frog") and produced by Osnat Shurer ("Lifted," "One Man Band").
Moana will be released in theaters nationwide on November 23.