Zack Snyder Directed One Scene In 'Suicide Squad'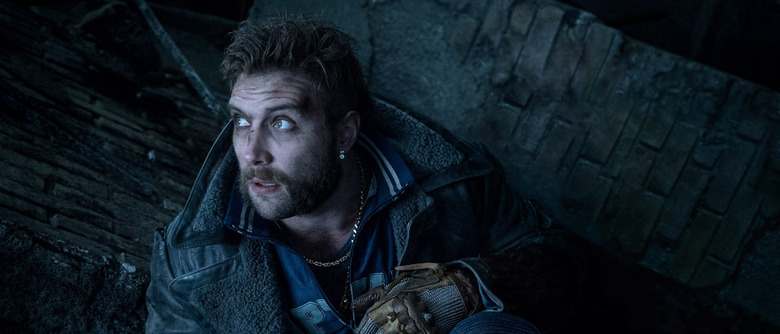 Suicide Squad is the first movie in the DC extended universe to not be directed by Zack Snyder, calling upon the services of End of Watch and Fury director David Ayer. But as one of the overseers of this burgeoning cinematic world, Snyder is credited as an executive producer on the film, allowing him to keep an eye on the state of things even when he's not personally behind the camera.
Except that he was behind the camera for Suicide Squad. Well, he was behind the camera for a single scene, directing a quick sequence involving Jai Courtney's Captain Boomerang and slightly more recognizable character from the DC comic book landscape.
Minor spoilers follow, including details of a certain cameo.
Collider sat down with Ayer to talk about all things Suicide Squad and eventually, the flashback depicting Captain Boomerang's capture during a failed bank robbery came up. Of course, the big news here is that this scene includes a cameo from Ezra Miller's the Flash, who makes quick work of Courtney's B-tier baddie. And because this moment involves a member of the Justice League, it ended up being much easier to just let Snyder take care of this moment:
Flash was always in the movie, we just got lucky because Justice League was happening and they had the uniform, they had the assets, so we were able to get that photography.
Ayer saying that the Flash was always in the movie doesn't quite align with the recent stories about the cameo being a last-minute addition, but otherwise, this all makes sense. If Snyder was already filming Justice League in London, where he had instant access to Miller and the new Flash costume, why not take advantage of it? Plus, if anyone knows how to film this character and keep it consistent with his future appearances, it would be the only director to have worked with him so far.
So consider that some trivia you can use to enlighten and entertain your friends and loved ones when you check out Suicide Squad this weekend. Because let's face it: no number of negative reviews are going to keep you from seeing this movie and making up your own mind (our own Angie Han liked it). And you can come back on Monday for an in-depth spoiler review, where we can talk about how Ayer's depiction of the DCEU differs from Snyder's.