'Alien: Covenant' Wraps And Shares One More Set Photo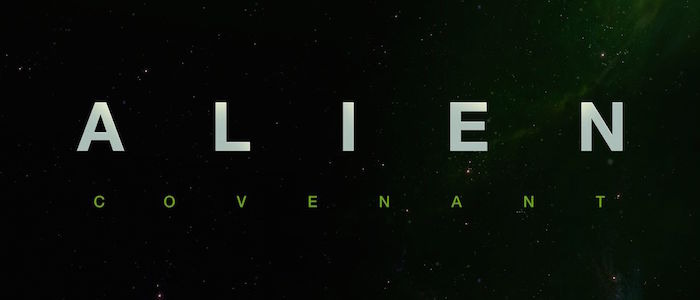 Alien: Covenant, the the sixth film in the Alien series and the third time director Ridley Scott has helmed one of these movies, has officially wrapped filming and the official Alien Twitter account has shared a new photo from the set to prove it. Despite a pretty steady series of behind the scenes photos and little updates, this has been the rare major studio film to make it this far in the process with the vast majority of its secrets intact. Outside of a cast list, a basic synopsis, and a wild (and potentially spoilery) rumor about Katherine Waterston's character, we know precious little about Alien: Covenant.
So let's just ponder this set photo, shall we?
Like several of the released photos, this one offers a look at Ridley Scott on set as he interacts with his cast and crew. In this case, he's directing Waterston, who looks very much like a traditional Alien heroine in her tank top and heavy weapon. There really isn't too much to take in here beyond it being a nice photo. Here's one of the most seasoned filmmakers in Hollywood sharing a moment with one of the most exciting up-and-coming actors out there right now.
Filming has wrapped. The next phase begins. #AlienCovenant pic.twitter.com/tH19MTGjfB

— Alien (@AlienAnthology) July 19, 2016
We know from a previously released image that Waterston won't be all smiles on screen and that her Daniels is almost certainly going to have a rough time. This is an Alien movie, after all. There will be running. And screaming. And sweating. Other photos have revealed Michael Fassbender on set and Danny McBride taking direction on the bridge of a spaceship (which is still an odd sentence to write). We also know that Noomi Rapace will be back to play her Prometheus character again, but the extent of her involvement in the plot remains unknown.
Filming may be wrapped, but the movie still has a long way to go. Alien: Covenant is set to dock in a theater near you on August 4, 2017. Here's the official synopsis, just in case you have missed it:
Set as the second chapter in a prequel trilogy that began with Prometheus, Alien: Covenant connects directly to Ridley Scott's 1979 seminal work of science fiction. It begins with the colony ship Covenant, bound for a remote planet on the far side of the galaxy. There, the crew discovers what they think is an uncharted paradise, but is actually a dark, dangerous world — whose sole inhabitant is the "synthetic" David, survivor of the doomed Prometheus expedition.