'King Arthur: Legend Of The Sword' Images Reveal Charlie Hunnam As Arthur Pendragon And Jude Law As Vortigern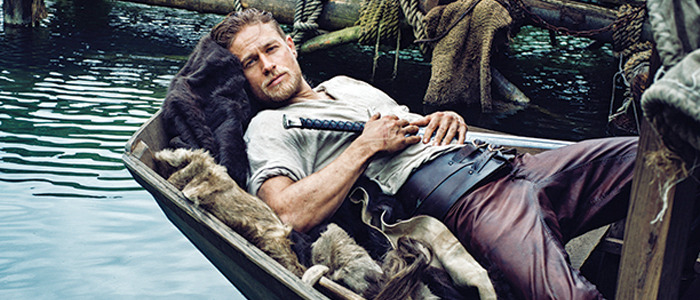 If you had forgotten that Guy Ritchie was directing an expensive movie based Arthurian legend, you're not alone. Warner Bros. has been pretty quiet about the upcoming King Arthur: Legend of the Sword, which is supposedly the first in a series of films following Arthur Pendragon and the various knights who would eventually gather at his Round Table. It looks like that silence has officially broken as two new image from the film have arrived, showing off Pacific Rim and Sons of Anarchy star Charlie Hunnam as King Arthur and Jude Law as the villainous Vortigern.
Entertainment Weekly premiered the images and provided a few story details that explain exactly why these two are going to be spending two hours of screen time trying to kill one another. It seems that Vortigern murdered his brother, King Uther Pendragon (Eric Bana), and usurped the throne using his "deadly magical powers." Uther's son, Arthur isn't going to take a coup against his family lying down, so he grows a scraggly beard and fights back. Speaking of scraggly beards, here's Hunnam as Arthur, looking about as far from a throne room as possible: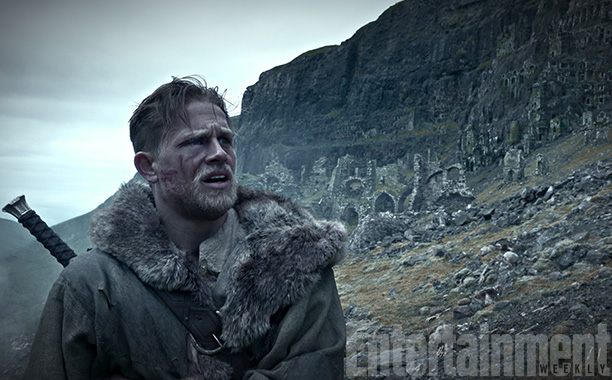 As you can clearly see, this is a grittier version of Arthur than we have seen in previous films. As Hunnam explained to EW:
He's a bit rough around the edges, but he's basically a survivor. There's definitely a harder edge than people would imagine.
This is very much in line with what Ritchie has been saying about this new take on character in previous interviews:
I think where the pitfall has often been is trying to make King Arthur bland and nice, and nice and bland. The two qualities make rather compatible bed companions. Unfortunately, they're not interesting to watch. Luke Skywalker was always the most uninteresting character in Star Wars because he's the good guy. Good guys are boring.
And that brings us our first look at Jude Law as Vortigern, who looks like a far more traditional medieval fantasy villain. Chainmail is a good look for Law, a Guy Ritchie veteran who starred as Dr. Watson in the two Sherlock Holmes movies.
I tend to run hot and cold on Ritchie's films, but I'm intrigued by the thought of his very modern style blending with this kind of classical material. I'm not sure I need a grim 'n gritty King Arthur movie, but I'm positive I need a "Jude Law as a magic-wielding evil king movie," so it all balances out in the end.
After being shuffled around the schedule a few times, King Arthur: Legend of the Sword is currently scheduled to hit theaters on March 24, 2017.