Theme Park Bits: 'Skull Island: Reign Of Kong' And 'Frozen Ever After' Reveal New Entrances, Disneyland Announces A Fourth Hotel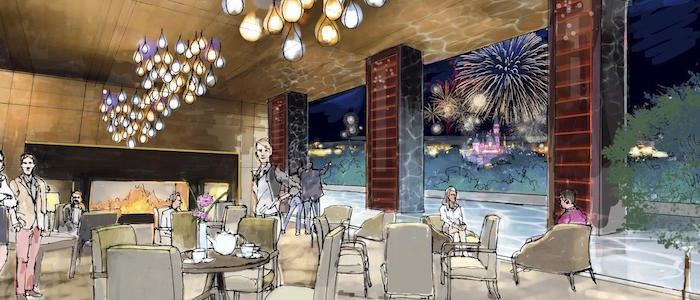 In this edition of Theme Park Bits:
Frozen Ever After reveals a heavily remodeled entrance.
New videos show off a hugely impressive entrance and queue for Skull Island: Reign of Kong.
Our best look yet at Shanghai Disneyland's fireworks show.
Disneyland announces a new hotel that will open in 2019.
Epcot's Frozen Ever After is just a few weeks from its grand opening and the ride exterior is finally starting to take shape. Gone is the rocky cliff and cave that signified the Norway-themed Maelstrom log flume and in its place is a castle, presumably meant to be Queen Elsa's castle (just not the one made out of ice). For old school Walt Disney World fans, the video above can feel a little jarring – a familiar image is gone, replaced with something strange and new and built around a recent movie that is still doing insane business for the Disney company.
Although reactions have been all over the place, it's hard to imagine this ride not hitting it out of the park. Park officials know how popular Frozen is and they know that they have to compete with the high watermark established by Universal Studios' Harry Potter lands down the road. Eventually, the fans decrying the demolition of Maelstrom will probably fall in line (it wasn't that good, people) and the people upset over the removal of the margarita stand on the edge of the area will find booze elsewhere (it is reportedly being relocated elsewhere in the Mexico pavilion). We'll know for sure when the doors open on June 21.
Construction scrim covering old Maelstrom entrance #Epcot ~@skubersky pic.twitter.com/jrW4aAVmZN

— TouringPlans (@TouringPlans) December 9, 2015
For the record, here's what the are looked like when it it was still under construction.
Speaking of Universal Studios directly competing with their main theme park rival, the walls surrounding Islands of Adventure's Skull Island: Reign of Kong attraction have come down and there's no denying it: it looks like one of the most detailed and stunning ride entrances ever built. Universal has been killing it with theming over the past few years and this more than matches the exquisite work they've pulled off in the Wizarding World of Harry Potter. The only real issue is that the booming soundtrack from the neighboring Jurassic Park area permeates the video, but we imagine the ride's proper soundtrack will kick in when everything opens for the public in a few weeks.
The video only has a new precious seconds of footage from the actual queue, but we do get to see some very cool animatronics at work, including a slimy worm monster that looks like it crawled out of Peter Jackson's King Kong. Since we now know that the ride queue will feature live actors dressed as Skull Island natives periodically leaping out to terrify waiting guests, this is only the tip of the iceberg.
For large gallery of images, including a look at available food and merchandise in the area, you can head right over here.
A few weeks ago, we got our first look at Shanghai Disneyland's Ignite the Dream show, which combines fireworks, other pyrotechnics, lasers, water, and some pretty jaw-dropping projection-mapping to create a show that should close any visit to the park with a literal bang. Now, a new video from much closer to the staging area has arrived online and yep, this definitely looks like the most impressive "Castle Show" in any Disney theme park at the moment. As the other parks retool and update over the next decade, expect to see more like this in other parks.
Speaking of change coming to other Disney parks, it looks like Disneyland will be getting its fourth on-site hotel. The Orange County Register reports that the new hotel will be constructed on the site of the current Downtown Disney parking lot, with a new parking garage built nearby to accommodate visitors. The theme of the hotel has not been revealed, but it will be a "four-diamond" hotel that will cost you about $450 per night (or an arm and a leg, whatever is worth less to you). Perks include a restaurant, swimming pool, and rooftop dining (with full view of the evening fireworks show). Construction is expected to begin in 2017 and with an estimated completion date of 2019...just in time for Star Wars land to open. You can check out a gallery of concept art below.