POTD: Jamie Lee Curtis Cosplayed At The 'Warcraft' Premiere As An Orc Shaman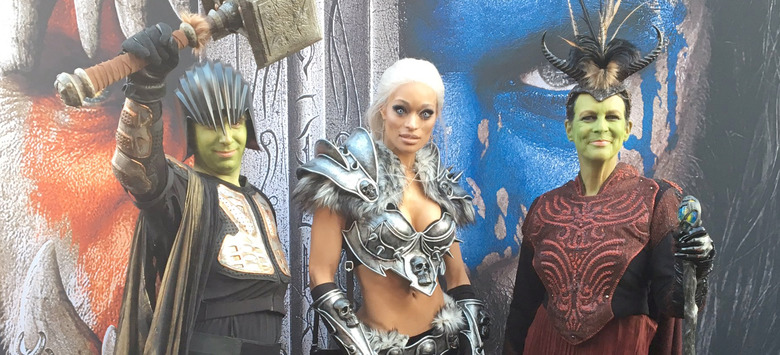 Even though the early buzz on the Warcraft movie hasn't been that great, that didn't stop Halloween and Freaky Friday star Jamie Lee Curtis and her son from showing their excitement at the premiere. The mother-son duo showed up in full orc wardrobe, with Curtis dressed up as an orc shaman and her son Tom as an orc warrior. As you can see, we're not just talking about throwing on some armor, but full face paint too.
Check out the Jamie Lee Curtis Warcraft cosplay after the jump.
Jamie Lee Curtis posted these two pictures to Twitter:
The photo on the left features bodybuilder and famous cosplayer Alicia Marie, who was in attendance for the premiere as well. Curtis took some time to talk to Entertainment Tonight where she clarified that she's not much of a player, but she's doing this kind of thing for a bit of fun with her son:
We're serious about our games. My son Tom is a player and I'm a supporter. I think that what Blizzard has done has changed the universe.
This isn't the first time that Jamie Lee Curtis has cosplayed for Warcraft, since last year she went incognito to BlizzCon:
Went incognito 2 BlizzCon 2015.@Warcraft It was E P I C! What a wonderful World of Warcraft this is.#BlizzCon2015 pic.twitter.com/wjVWznqwpb

— Jamie Lee Curtis (@jamieleecurtis) November 8, 2015
She just has to play this game herself, right? This seems like some serious dedication for someone who just supports her son's video game hobby. But maybe Jamie Lee Curtis is just that cool of a mother. If that's not enough joy to make your day better, here's Jamie Lee Curtis yelling "Leeroy Jenkins" at the premiere as well:
Only thing missing in the great @warcraftmovie was...... pic.twitter.com/ODp25CQeZB

— Jamie Lee Curtis (@jamieleecurtis) June 7, 2016
No word on what Curtis and her son thought about Warcraft, but hopefully the 40 minutes reportedly cut out of the film, according to Duncan Jones, doesn't make the movie messy. We'll find out this week on June 10.