'The Space Between Us' Trailer: Asa Butterfield Travels From Mars To Earth Just For A Girl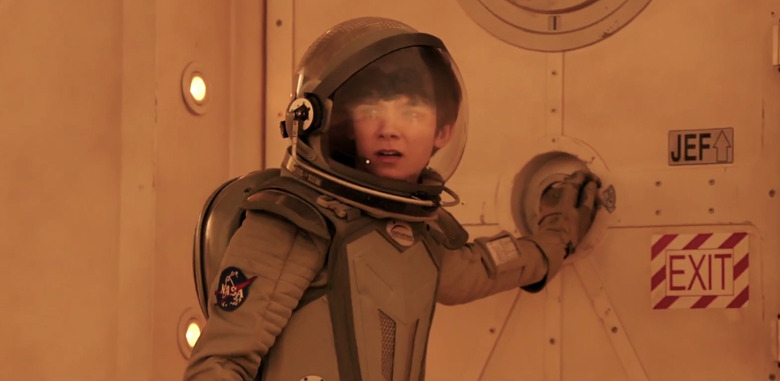 Matt Damon was left behind on Mars due to an accident in last year's outstanding The Martian. This year, Asa Butterfield will be left on the red planet on purpose as the first child born on Mars in The Space Between Us.
Gardner Elliot (Butterfield) has only known Mars as his home, but NASA finally decides to bring him back to Earth. However, due to the threat our own gravity poses to his constitution after being born off-planet, he's left in isolation, away from the outside world he so desperate wants to experience. And part of that world is a girl (Tomorrowland's Britt Robertson) in Colorado he had been talking to from across the universe, and he'll do anything to finally meet her. It's a coming-of-age romance unlike anything we've seen before.
Watch The Space Between Us trailer after the jump.
I suppose we can forgive the punny title that just so happens to (almost) be the title of a Dave Matthews Band song, because this doesn't look half-bad. Sure, it's a little cheesy, but at its core is a romance with an angle that hasn't been explored before. It's almost like an Amblin Entertainment film mixed with an indie romance, and that sounds fantastic to me.
If that doesn't convince you, there's a great supporting cast here that includes Gary Oldman as an important figure at NASA, Carla Gugino as a fellow astronaut, B.D. Wong and Janet Montgomery. The film comes from director Peter Chelsom, who delivered romance in Shall We Dance? and Serendipity before this, but this looks like something just a little different for him.
Described as being a "star-crossed science fiction love story," The Space Between Us follows two teens from different worlds. Gardner Elliot, the first human born on Mars, is secretly raised in an experimental colony after his astronaut mother dies during childbirth. Sixteen years later, Gardner begins an online romance with a girl living in Colorado and hatches a plan to travel across the universe to meet her. Now, on the run, with Earth's gravity threatening his very existence, Gardner must race against time and nature to find his love and win her heart. Once united, the two teens venture to seek out the enigmatic billionaire who funded the original expedition to Mars, in hopes of uncovering information about Gardner's mother and the mysterious circumstances surrounding how Gardner came into existence.
The Space Between Us is set to open on August 19.