The Lonely Island's New 'Popstar' Music Video: A Song About Sexual Bliss & Osama Bin Laden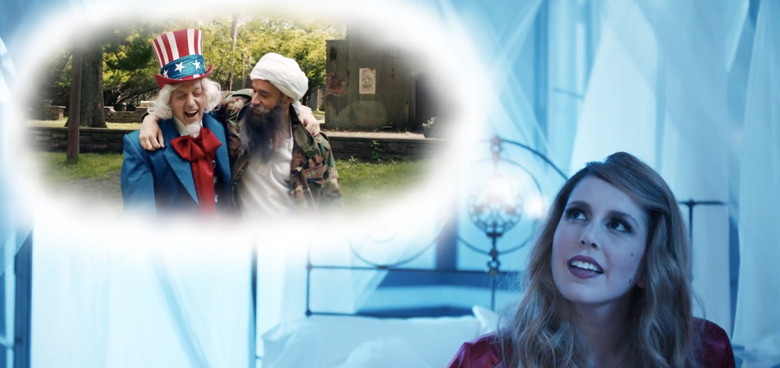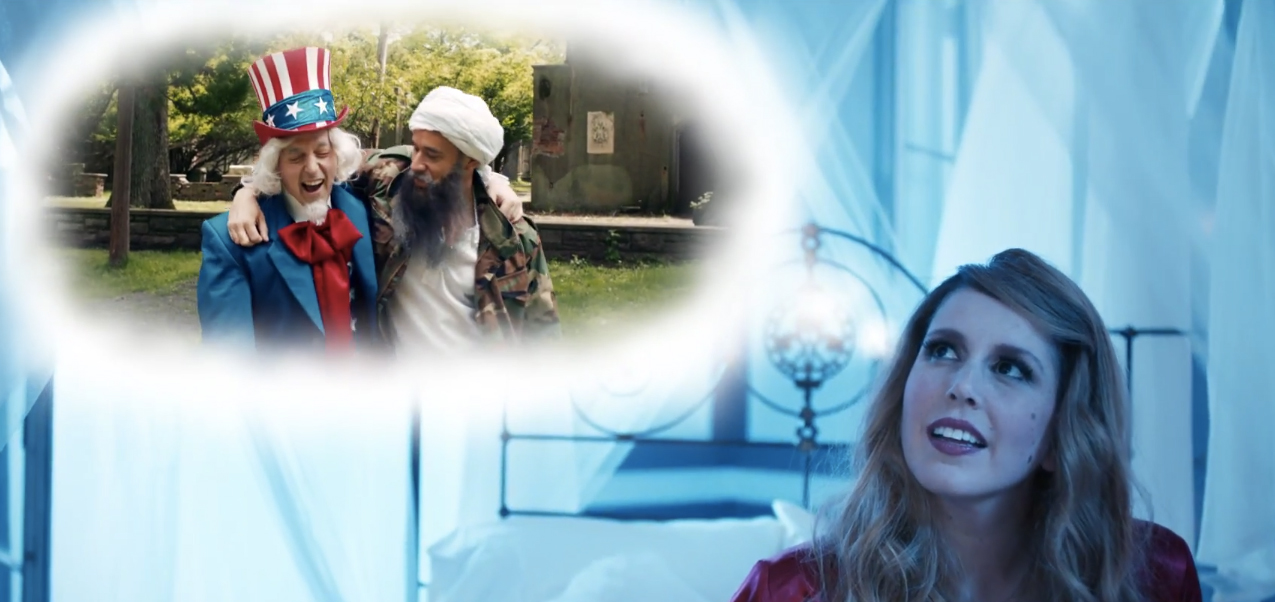 Not too long ago, a couple tracks from the soundtrack of this summer's mockumentary comedy Popstar: Never Stop Never Stopping debuted online, showcasing the latest tunes crafted by The Lonely Island. The rap trio formed by Andy Samberg, Akiva Shaffer and Jorma Taccone got their start on Saturday Night Live with signature tracks like "Lazy Sunday" and "I'm On a Boat." For the season finale this past weekend, they brought their rhymes back to SNL in a new music video for yet another track from Popstar. With subject matter that tackles sex and Osama Bin Laden, it's the most ridiculous one yet.
Watch The Lonely Island Popstar music video after the jump.
Here's The Lonely Island's music video for "Finest Girl (Bin Laden Song)" from Hulu:
It's not an instant classic like "I Just Had Sex" or "Dick In a Box," but the song also doesn't work as well outside of the movie. Maybe it's because of the bleeps since the video had to be censored on television (though I'm not sure why it's censored in the online version), but the music video just isn't as great as the way the song is presented in Popstar: Never Stop Never Stopping.
What I do like is that this music video is done with Samberg in character as Conner4Real, which is why it's so outlandish. However, the use of Vanessa Bayer in the role opposite Conner4Real kind of takes away from its authenticity in that regard. You would think Conner would have gotten some Victoria's Secret model or someone like that to act opposite him instead. But the rest of the video also features Fred Armisen as Osama Bin Laden, Jay Pharoah as Barack Obama and Beck Bennett as Uncle Sam, so at least there's consistency there.
If you haven't enjoyed The Lonely Island previously, then Popstar: Never Stop Never Stopping probably isn't going to be for you. But the movie delivers some huge laughs all the way throughout and a truly ridiculous but well-produced soundtrack full of new songs from the fake MC trio. But if you love these songs, then this one and the two previously released songs are on iTunes right now.
For more, watch the most recent trailer for Popstar right here.
Universal Pictures' Popstar: Never Stop Never Stopping is headlined by musical digital-shorts superstars Andy Samberg, Akiva Schaffer and Jorma Taccone, collectively known as The Lonely Island. The comedy goes behind the scenes as singer/rapper Conner4Real (Samberg) faces a crisis of popularity after his sophomore album flops, leaving his fans, sycophants and rivals all wondering what to do when he's no longer the dopest star of all.
The latest comedy from blockbuster producer Judd Apatow (Trainwreck, Superbad, Knocked Up) co-stars Sarah Silverman, Tim Meadows and Maya Rudolph and many of the biggest names in comedy and music in cameo performances. Co-directed by Schaffer and Taccone and written by The Lonely Island trio, Popstar is also produced by Rodney Rothman (producer of Get Him to the Greek, Forgetting Sarah Marshall; co-writer of 22 Jump Street), as well as Samberg, Schaffer and Taccone.
Popstar: Never Stop Never Stopping opens June 3.