'Suicide Squad' Test Screening Buzz: Sounds Like The Hit DC Comics Needs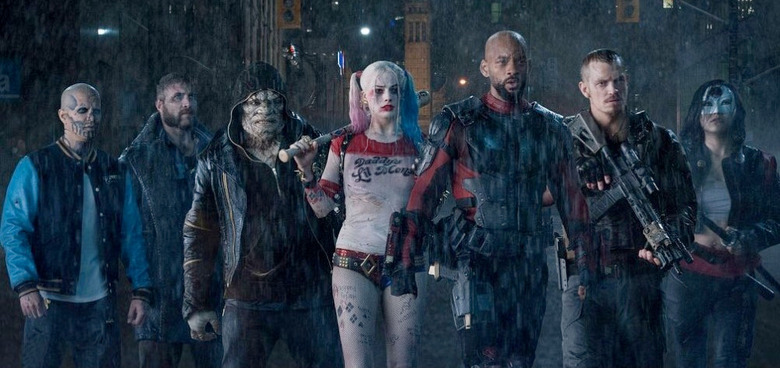 Since Batman v Superman: Dawn of Justice proved to be a disappointment for Warner Bros. Pictures by not pulling in as much box office as they hoped, the studio is really banking on the success of Suicide Squad to help turn things around. The movie is even anticipated by those who didn't really enjoy Batman v Superman all that much, and it'll be the key to keeping audience interest in the rest of the growing DC movie universe.
The good news is that Suicide Squad seems to deliver on the hype with some early reactions hitting the web following a test screening. Read some of the lucky attendees' Suicide Squad reactions after the jump.
Here's the handful of tweets from some people who attended the movie (via ComicBook.com):
SO I JIST SAW AN EARLY SCREENING FOR SUICIDE SQUAD!!!!!!! IT WAS FUCKING AMAZING

— Alyssa 😽 (@FlossyLys) May 20, 2016
I RECOMMEND EVERYONE GO SEE SUICIDE SQUAD IN AUGUST!!! IT IS A PLEASER! YOU WILL BE SURPRISED!!

— Alyssa 😽 (@FlossyLys) May 20, 2016
Margot Robbie was just a perfect Harley Quinn my god. Just perfectly crazy.

— Alyssa 😽 (@FlossyLys) May 20, 2016
#SuicideSquad was the best movie I've seen. Just insane. I was skeptical of Cara Delevingne acting but she was pretty good.

— I will not not be rich (@Inthebayy) May 20, 2016
Saw a free first screening of #SuicideSquad last night! The movie was #amazing! All the characters were played incredibly well! #Recommended

— Alexis Harrold (@AllRealLex) May 20, 2016
Saw Suicide Squad today! It met my expectations! Can't wait for the actual release! #SuicideSquad #earlyscreening

— Ermias_Airfresh (@StarkillerUltra) May 20, 2016
Just got out of a test screening for #SuicideSquad. THIS is the movie that shouldve launched the #DCEU. Perfection film making, breathtaking

— Arjun Lal (@ArjunFromTO) May 21, 2016
If you're skeptical of such positive early reactions on Twitter, these accounts look to be legitimate users not just planted to create positive word of mouth. They all have accounts that have been active for years and their other tweets indicate that they're not just being used for promotional purposes.
The screening in question happened in Union City, California, which isn't surprising since a lot of unfinished cuts of movies are screened for audiences in California. This is before the movie screens at the MCM Comic-Con in London next week, so maybe the studio wanted a test screening with a more general audience before sending it over there.
Some fans had follow-up questions to these users about the movie, mostly about specific characters. As you can see from the tweets above there's a lot of love for Margot Robbie as Harley Quinn, and also praise for Will Smith as Deadshot. There's not quite as much praise for Jared Leto as The Joker, but a couple people said his take on the character is insane, and fits perfectly with the style of the movie.
Personally, I'll continue to be cautiously optimistic about Suicide Squad after these reactions. The most recent trailer was fantastic, but let's not forget that the early reactions from audience screenings for Batman v Superman were very positive, and the film wasn't received quite as well as the studio hoped. We'll find out if director David Ayer has created something worth the wait late this summer.
It feels good to be bad... Assemble a team of the world's most dangerous, incarcerated super villains, provide them with the most powerful arsenal at the government's disposal, and send them off on a mission to defeat an enigmatic, insuperable entity.  U.S. intelligence officer Amanda Waller has determined only a secretly convened group of disparate, despicable individuals with next to nothing to lose will do.  However, once they realize they weren't picked to succeed but chosen for their patent culpability when they inevitably fail, will the Suicide Squad resolve to die trying, or decide it's every man for himself?
Suicide Squad arrives on August 5.