'Ghostbusters' International Trailer: Meet The Conductors Of The Metaphysical Examination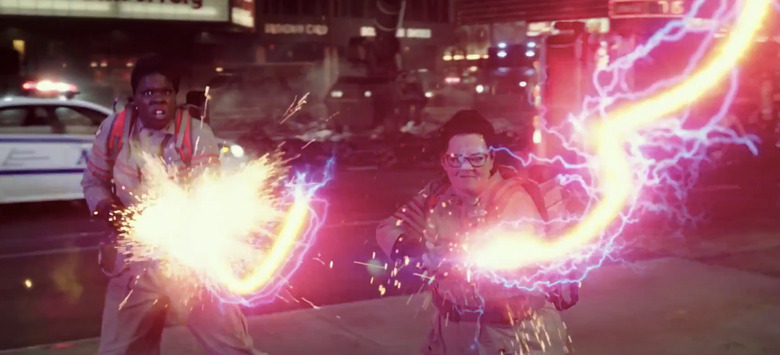 Hot on the heels of yesterday's new Ghostbusters trailer, an international trailer has debuted online, and it shows a bunch of new footage that we haven't seen yet. Melissa McCarthy, Kristen Wiig, Kate McKinnon and Leslie Jones can be seen kicking some major ghost tail, but we also get to see them trying out the proton stream as a method of catching ghosts for the first time. Plus, we get to see more of just how dimwitted Chris Hemworth's character really is.
Watch the new international Ghostbusters trailer after the jump.
Even though I'm a little worried about the comedy being too broad in this movie, most of the jokes in this new trailer land pretty well, especially Cecily Strong's criticism of the Ghostbusters. Right now what I'm digging most are the designs for the ghosts and the color palette bringing them to life. It's vibrant and twisted with just enough influence from the old movie to still stand on its own. Plus, the new shots of the giant Ghostbusters logo come to life, named Rowan for some reason, are pretty damn cool.
However, whether or not the rest of the movie can stand on its own remains to be seen. My biggest concern is that too many elements of the original Ghostbusters will be lifted to make this new one, in which case I wish that there were connections to the original franchise within the confines of the narrative. Paul Feig recently said the idea of a multiverse might be in the works behind the scenes, so maybe this franchise could end up being tied the original in some way. Even if that's not the case, I'm just hoping for the best.
If you missed yesterday's new domestic trailer, you can watch it right here.
Ghostbusters makes its long-awaited return, rebooted with a cast of hilarious new characters. Thirty years after the beloved original franchise took the world by storm, director Paul Feig brings his fresh take to the supernatural comedy, joined by some of the funniest actors working today – Melissa McCarthy, Kristen Wiig, Kate McKinnon, Leslie Jones, and Chris Hemsworth. This summer, they're here to save the world!
The film is produced by Ivan Reitman and Amy Pascal, and written by Katie Dippold & Paul Feig, based on the 1984 film "Ghostbusters," written by Dan Aykroyd and Harold Ramis and directed by Ivan Reitman.
Ghostbusters arrives July 15.