Final 'Teenage Mutant Ninja Turtles 2' Trailer: You'll Believe A Turtle Can Fly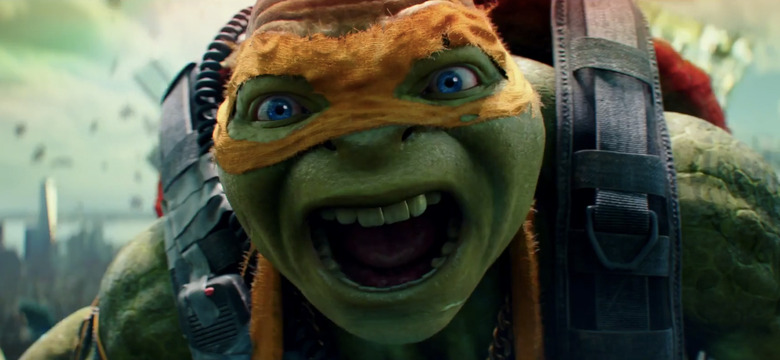 Last weekend, a new TV spot for Teenage Mutant Ninja Turtles: Out of the Shadows revealed the full form of Krang, the fleshy, brain-like alien from Dimension X who bosses Shredder around and builds his own bionic suit to take on the heroes in a half-shell. Now the final trailer has just been released, and we get an ever better look at Krang knocking the turtles around.
Watch the final Teenage Mutant Ninja Turtles 2 trailer after the jump.
Despite the fact that this looks unbelievably silly, the action looks like it could make this sequel an absolute blast. Easily the best part from the first movie (with the exception of the beatboxing elevator scene) was the action sequence that happened down a mountainside. It looks like there may be a couple great action sequences like that in this movie to up the ante a bit.
The problem is that everytime sometime looks remotely cool in this movie, it's tainted by a dumb joke. Obviously, this movie is geared more towards kids than adults, so you need humor like that. But I just wish the writing was a little more clever than another villain making a mistake followed up by a "Yeah, that's my bad."
Also, for any fans who have been anxious to see more of Krang, the recent marketing push has really been showing what the big screen debut of the signature villain will bring to the movie. However, we haven't heard him speak yet. Brad Garrett was just recently set to replace Fred Armisen as the voice of Krang, so we'll have to wait and see how that works out.
If you want to see more from the movie, check out the recent batch of TV spots right here.
Michelangelo, Donatello, Leonardo, and Raphael return to theaters this summer to battle bigger, badder villains, alongside April O'Neil (Megan Fox), Vern Fenwick (Will Arnett), and a newcomer: the hockey-masked vigilante Casey Jones (Stephen Amell). After supervillain Shredder escapes custody, he joins forces with mad scientist Baxter Stockman (Tyler Perry) and two dimwitted henchmen, Bebop (Gary Anthony Williams) and Rocksteady (WWE Superstar Stephen "Sheamus" Farrelly), to unleash a diabolical plan to take over the world. As the Turtles prepare to take on Shredder and his new crew, they find themselves facing an even greater evil with similar intentions: the notorious Krang.
Teenage Mutant Ninja Turtles: Out of the Shadows arrives in theaters June 3.