'Assassin's Creed' Trailer: Can Michael Fassbender Save The Video Game Movie?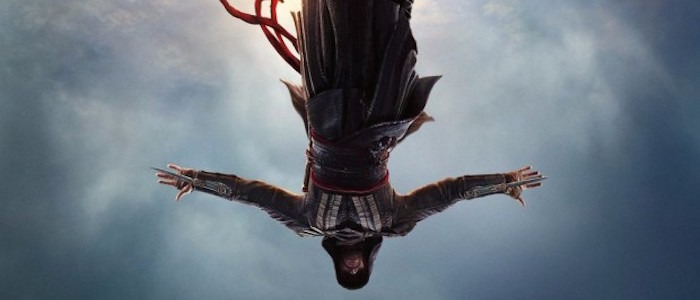 It's about time somebody made a genuinely good movie based on a video game, so why not Michael Fassbender and director Justin Kurzel? And if there's going to be a good movie based on a video game, why not the Assassin's Creed series, which has had its fair share of fantastic entries? This whole movie feels like a series of why not's – it's about time for somebody to break the video game movie mold.
The first Assassin's Creed trailer has arrived, so we should probably watch it and carefully examine its mold-breaking capabilities. After all, few video game adaptations have featured a pedigree quite like this.
If you want to get technical, Assassin's Creed isn't a direct adaptation of any game in the series. It's actually a companion piece, a complete separate story that just so happens to take place in the same universe as the stories that have already been told.
However, the premise still aligns with most of the games in the franchise. A modern man named Callum Lynch (Michael Fassbender) learns that he's descended from a long line of Assassins, a secret organization that has been battling a rival group called the Templars for centuries. Using wacky science fiction technology, he's able to access his "genetic memories" and re-live the life of his deadly ancestor Aguilar in 15th century Spain. The result is a blend of historical action and science fiction. But does it look good? You be the judge.
In addition to playing Lynch and Aguilar, Fassbender is a producer on the film, so you know he's taking this seriously (and he's already planning sequels). And Justin Kurzel, who directed Fassbender in last year's gorgeous adaptation of Macbeth, isn't the kind of filmmaker to phone a movie in. The fact that the supporting cast features heavy-hitters like Marion Cotillard, Michael K. Williams, Jeremy Irons, and Brendan Gleeson is another promising sign. These are not the kind of people you normally see attached to a video game adaptation. Could this...could this be good? Maybe. Hopefully.
Here's the official synopsis for the film:
Assassin's Creed follows a character by the name of Callum Lynch who, through a revolutionary technology that unlocks his genetic memories, is able to experience the adventures of his ancestor, Aguilar, in 15th Century Spain. Callum discovers he is descended from a mysterious secret society, the Assassins, and amasses incredible knowledge and skills to take on the oppressive and powerful Templar organization in the present day.
Assassin's Creed opens on December 21, 2016, just in case you need to inject a little bit of bloodshed into your holiday gathering. If you want more, you can check out a few images that arrived just a few days ago.