'Independence Day: Resurgence' Viral Video: William Fichtner Asks You To Join Earth Space Defense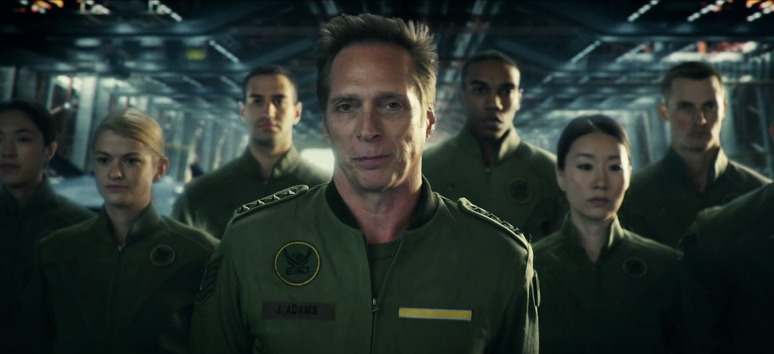 We're still about a month and a half away from seeing what happens when the aliens who attacked us 20 years ago in Independence Day regroup and come back to finish the job. As we've seen in viral news reports and the trailers for Independence Day: Resurgence released this year, we've already rebuilt, and we've even utilized alien technology to advance our weapons and society, including a global initiative that founded Earth Space Defense, which includes a military base on the moon.
Now another viral video has surfaced in the form of a recruitment video for Earth Space Defense with William Fichtner asking you to be all you can be...in space. We also get to hear part of a speech that President Lanford (Sela Ward) gives in the movie In addition, you can actually go enlist in ESD and play a few mini games to unlock some new footage from the film. Some of them even provide hints as to what story details we may find in the sequel. Watch the Independence Day Resurgence viral video after the jump.
Here's the Earth Space Defense recruitment video for Independence Day: Resurgence from 20th Century Fox:
If you're looking to kill time at work or just don't have anything better to do, you can enlist in Earth Space Defense right here. Don't get paranoid when you see the "Enlist" button on the same page as the U.S. Army logo. They're not trying to trick you into joining the army, but they have sponsored the page with a link to learn more about real Army careers.
Once you enlist, you're given four missions to choose from, and upon completing each of them, you can watch four different 30-second featurettes with some new footage from the film and talking heads from cast members like Jeff Goldblum, Bill Pullman and Jessie Usher, as well as director Roland Emmerich.
The interesting thing about the missions is they may provide insight into some of the story. For example, one has you tracking down microbes that allow the aliens to influence human thought through telepathy so you can create a serum that will stop the aliens from being able to enter human minds, just as they did to President Whitmore (Pullman) in the first Independence Day. Maybe that's something we've already done when the movie starts or maybe that's a plot point in the sequel. We'll have to wait and see.
Speaking of former president Whitmore, there's also a quick shot of him as a talking head where he doesn't have that grizzled beard and he's wearing a flight suit. So I think we can expect Whitmore to lose the distressed bum look and kick some alien ass again. However, with his daughter (played by Maika Monroe) stepping into action as well, there's a chance we might see him die in this one.
We always knew they were coming back. After Independence Day redefined the event movie genre, the next epic chapter delivers global spectacle on an unimaginable scale. Using recovered alien technology, the nations of Earth have collaborated on an immense defense program to protect the planet. But nothing can prepare us for the aliens' advanced and unprecedented force. Only the ingenuity of a few brave men and women can bring our world back from the brink of extinction.
Independence Day: Resurgence invades theaters on June 24.