Experience The New TRON Lightcycle Ride In A Video From Shanghai Disneyland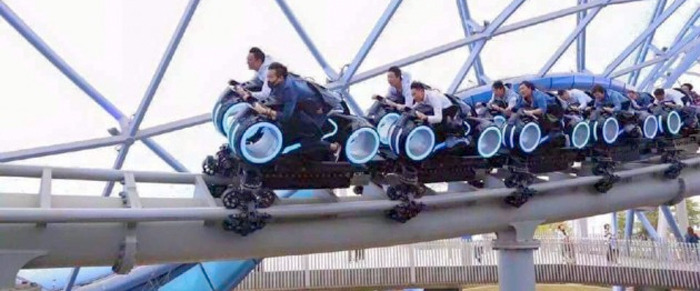 There's a new Disney theme park hitting Shanghai next month, and TRON fans will be jealous when they see the new ride that is only being built in China. We got a glimpse at some concept art for the attraction from overseas, but now that the park is getting really close to opening on June 16, we get to see how the ride turned out in reality.
For those who don't have the coin to make it over to Shanghai but still want to see what they're missing out on, a new video has emerged online from someone who was lucky enough to check out the ride during the soft open and cast member previews. Thankfully, they brought their camera and turned it on for the full ride, and it's a pretty cool.
Watch the TRON ride video after the jump.
Thanks to Inside the Magic for the video and header image:
The ride doesn't look like an intense roller coaster or anything like that, mostly because the position in which people are sitting is just like if they were straddling a light cycle. Doing loops and steep drops like that would likely make that seating position a little more difficult to sustain while keeping riders safe. But it does look fast, and the dark lighting inside the ride offers an experience that makes you feel like you're riding around on the signature TRON vehicle.
As we said, this ride is only available in Disneyland Shanghai, so unless you head over to China, you won't get to ride it. If only TRON Legacy performed a little better at the box office, then we might have gotten this ride over here. But at least we have a whole Star Wars land on the way to our theme park.