Hulu Has Got To Get Ron's Howard's New Beatles Documentary Into Your Life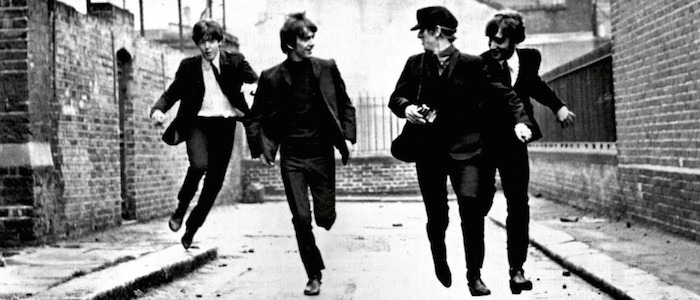 There are two pieces of big news here. First: Hulu has acquired The Beatles: Eight Days a Week, a new documentary about the greatest musical group in human history (sorry, everyone else) directed by Academy Award winner Ron Howard. Second: this purchase has signaled the launch of Hulu Documentary Films, a new arm for the streaming service that will, as its name implies, will focus on building a library of non-fiction movies.
Let's start with that first bit. Despite being the most beloved, analyzed, and dissected band of the past century, The Beatles continue to be a a source of fascination for anyone with decent taste because their story is downright astonishing. How did four working class kids come together and change music forever? And how did they continue to create incredible album after incredible album despite slowly growing to hate each other's guts? The story of John Lennon, Paul McCartney, George Harrison, and Ringo Starr is one the greatest true tales in all of popular culture. Even if Ron Howard just organizes all of the known information into an entertaining package, this film should prove entertaining.
The Beatle: Eight Days a Week was originally announced in 2014 and was produced with the full cooperation of McCartney, Starr, Yoko Ono Lennon and Olivia Harrison. The film will follow a very specific period of the band's career, cutting off right before the behind-the-scenes troubles started to get really nasty. Here's how Deadline, who announced this news, describes the film:
The Beatles: Eight Days A Week is based on the first part of The Beatles' career (1962-1966) — from the early days of The Cavern Club in Liverpool to the quartet's last concert, at Candlestick Park in San Francisco in 1966. The film will explore how John Lennon, Paul McCartney, George Harrison and Ringo Starr came together and will examine their inner workings – how they made decisions, created their music and built their collective career together – all the while, exploring The Beatles' unique musical gifts and their complementary personalities.
Of course, the other big news here is that Hulu is getting into the documentary business and it's easy to see why – Netflix has been killing it with their documentary selection, acquiring crowd-pleasers like The Battered Bastards of Baseball, moving personal portraits like Tig, and Academy Award nominees like The Square and Virunga. Netflix has proven that people who won't go to a theater to watch a doc will happily watch them at home and there's no way Hulu is going to let them control that market. If you think the streaming showdown between the various streaming services was weird now, just wait until Hulu starts making plays for the docs Netflix will want.
The Beatles: Eight Days a Week will open in theaters this Fall before heading straight to Hulu.