'Men Go To Battle' Trailer: An Off-Kilter Look At The American Civil War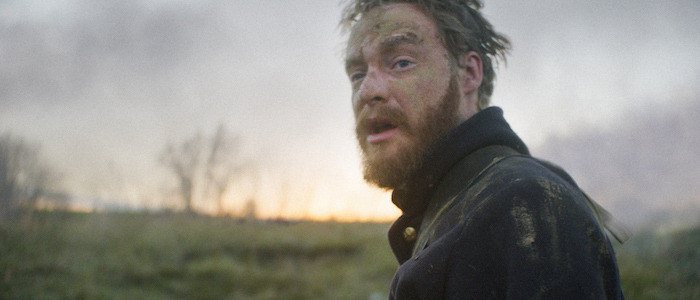 If you've recently looked over the slate of films arriving in 2016 and thought "Man, I really wish there were two films about the American Civil War coming out this year," you're officially in luck. In addition to Free State of Jones, we will soon be treated to Men Go to Battle, which looks about as far removed from that bigger, more bombastic take on this material as possible. Zachary Treitz's feature debut as a director looks small and scrappy, but there's an undeniable charm on display in this trailer. The film landscape is no stranger to offbeat and darkly comedic looks at life during wartime, but this particular conflict is usually treated with a certain amount of historical sanctity. It's about time that the Civil War got weird at the movies.
Men Go to Battle premiered at the Tribeca Film Festival last year, where Treitz took home the Best New Narrative Director prize. The film went on to play at the Indie Memphis Film Festival (winning the Emerging Filmmaker Award) and AFI Fest before being scooped up by Film Movement for release. In other words, it followed a fairly standard independent film route to get to this point. It just so happens to be an indie film about two brothers struggling to get by in war, with one trying to stay alive on the battlefield and the other attempting to keep their home in order.
Every low budget period film runs of the risk of looking cheap and there are moments in this trailer that come dangerously close to looking like someone started filming at a Civil War re-enactment, but I'm intrigued by this footage. Unlike a more traditional war movie starring the likes of Matthew McConaughey, nothing here looks familiar or stale. It looks small and weird and a like a nice change of pace from the typical historical epic.
Men Go to Battle stars Timothy Morton, Charlotte Arnold, Steve Coulter, Samantha Jacober, Rachel Korine, David Maloney, and Emily Cass McDonnell and Film Movement is eyeing a summer release. Here's the official synopsis:
Kentucky, 1861. Francis and Henry Mellon depend on each other to keep their unkempt estate afloat as winter encroaches. After Francis takes a casual fight too far, Henry ventures off in the night, leaving each of them to struggle through the wartime on their own.
And here is the film's poster, which leans heavily on the film's darkly comedic side: