Star Wars Bits: Mark Hamill Heads To Star Wars Celebration, A Death Star Fire Pit, And New Star Wars Land Details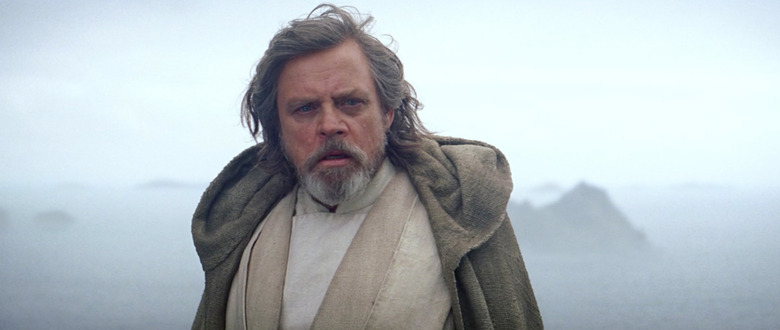 In today's edition of Star Wars Bits:
Mark Hamill is heading to London for Star Wars Celebration Europe 2016.
Casting director Nina Gold on finding John Boyega and Daisy Ridley.
David Prowse talks getting dubbed by James Earl Jones.
The score for The Force Awakens will soon be performed in concert.
A look at the sound editing of The Force Awakens.
A very cool (and very expensive) Death Star fire pit.
The Making of The Force Awakens book has been cancelled.
Disney reveals a bunch of future Star Wars theme park plans.
It's official: Mark Hamill will be in attendance at Star Wars Celebration Europe 2016. Specific details have yet to be released, but he will be involved in various panels and fans will have the opportunity to receive his autograph. Hamill is this year's only confirmed guest (it's still early yet), but Return of the Jedi actor Warwick Davis and The Force Awakens voice actor David Collins have been brought on as stage hosts. Star Wars Celebration Europe 2016 will be held in London, England from July 15 through July 17.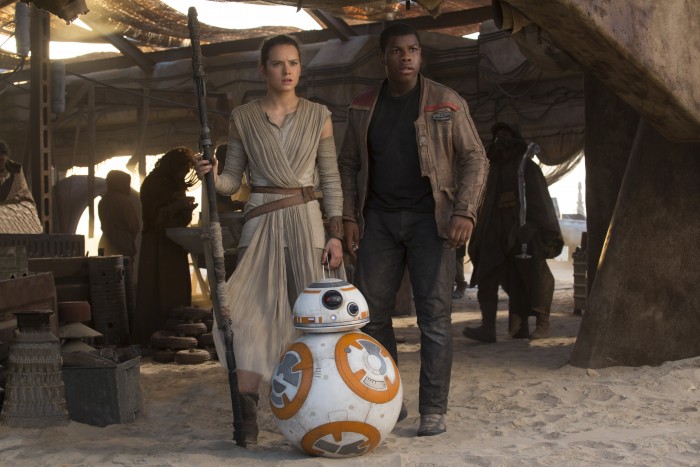 Casting director Nina Gold is apparently the woman you hire when you want to ensure that your geek project is stocked up with the right actors. The Hollywood Reporter spoke with her about casting shows like Game of Thrones and movies like Star Wars: The Force Awakens and she revealed the (pleasantly mundane) story of how John Boyega and Daisy Ridley were cast as Finn and Rey:
I had cast John before, when he was 18, in Attack the Block. Finding him then took months and months meeting teenagers, not even necessarily professional actors, but young kids who wanted to act and from all sorts of drama groups and other weird and wonderful ways of finding them. John actually had a job, a part in a play at London's Tricycle Theater, and I saw him in that and it started from there. Daisy was working in a bar, but also acting. We did see gazillions of people for both roles. But her agent sent her in, and she was really good. She straight away struck a chord and seemed to have the right feel from the first moment, which is unusual.
She also spoke about casting a black man and a woman as leads in a massive franchise film, which is something that you unfortunately don't see every day:
It's unheard of! But they had written a male and female character. Daisy's was a great female character, which was good. But I think in the casting department, and very much [director] J.J. [Abrams] and [producer] Kathy Kennedy, they were incredibly aware that they didn't want to make a film without a black character in one of the major parts — that would be a weird way to look at casting a film and a strange approach in 2014. While it was "Let's cast the most amazing, most right person for this part," nobody was saying, "He's got to be black and she's got to be white." It was a general awareness that we didn't want to ignore the reality of the modern world — even though it's not even the modern world, it's a galaxy far, far away! But you know what I mean.
Over the the course of countless books, articles, interviews, and Blu-ray special features, the making of the original 1977 Star Wars has been thoroughly examined from every possible angle. Almost no stone has been left unturned. However, the new documentary Elstree 1976 intends to turn over those final few stones, focusing on the unheralded people at the fringes of the Star Wars story...or in the case of Darth Vader actor David Prowse, those who are hiding in plain sight. IGN has debuted a new clip from the film, which features the man inside the Vader suit explaining what it was like to have someone else (the iconic James Earl Jones) re-record all of his dialogue:
Heres the official synopsis for Elstree 1976:
The film looks at the unheralded stars of George Lucas's original film – from the man behind film's most iconic villain, to the actor whose character was completely cut from the final film – the documentary delves into the eccentric community these individuals have formed and how the Star Wars franchise – which spans five decades from A New Hope to The Force Awakens – continues to impact their lives decades later.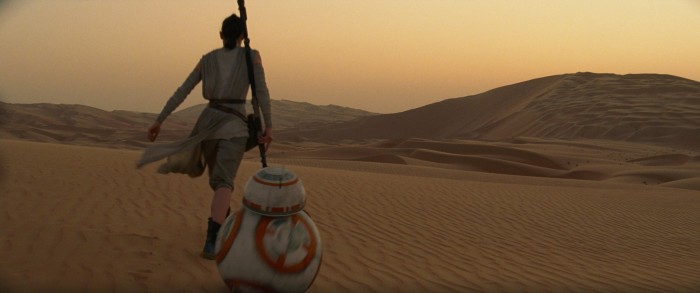 The Springfield Symphony Orchestra of Springfield, Massachusetts will close out its season on May 7 with a very special concert – they will be among the first in the world to play John Williams' score from The Force Awakens. Symphony director Kyle Wiley Pickett shared his enthusiasm:
I'm especially excited to announce that we will be playing the music from the new Star Wars film, The Force Awakens. The music is hot off the presses and we are literally one of the first orchestras in the world to get to perform this new score for an audience.
This won't be their first time playing Williams' iconic music. The Springfield Symphony Orchestra is known for playing famous movie music, including the scores for Jaws, E.T., Raiders of the Lost Ark and, of course, Star Wars. In other words, it's only appropriate that they get to take on Williams' latest Oscar-nominated score before anyone else.
Hearing Star Wars: The Force Awakens from Zackery Ramos-Taylor on Vimeo.
Editor Zackery Ramos-Taylor has assembled a nifty video highlighting the Oscar-nominated sound design of Star Wars: The Force Awakens and it is very much worth two minutes of your time.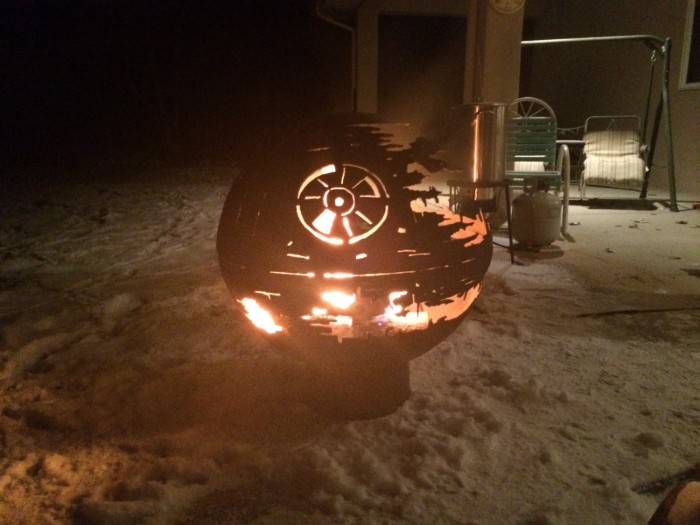 Do you like entertaining people and celebrating the destruction of the Death Star every single time you throw a shindig? KG Fire Pits has got you covered. It's not cheap (you'll need $1,000 to purchase the smaller version and $1,300 for the larger one), but this is certainly one of the cooler Star Wars-themed items you could place in your backyard.
It seems that J.W. Rinzler's The Making of The Force Awakens book has been cancelled for reasons unknown (it has even vanished from the publisher's site). This is sad news because his other books, The Making of Star Wars, The Making of The Empire Strikes Back, and The Making of Return of the Jedi, are required reading for Star Wars fans and offer the most comprehensive look possible at the making of those movies. They are nothing short of incredible. However, they're incredible because enough time had passed to allow everyone involved to open up and get completely honest about the process. I'm not sure why The Making of Force Awakens was cancelled, but it may have something to do with the fact that the film is still brand new, Lucasfilm is still producing Star Wars films on the regular, and everyone involved wants to keep their job. Give it twenty years. Then we'll get a great book on the making of The Force Awakens.
Disneyland and Walt Disney World are currently undergoing extensive construction to bring their respective Star Wars lands to life. While these new areas aren't expected to be finished until 2020 at the earliest, Disney shed new light on what to expect at their Awaken Summer event. Disney Imagineer Scott Trowbridge revealed new details about the Millennium Falcon-themed ride that will be one of two major attractions to arrive with the Star Wars lands:
Step aboard that iconic spaceship, the Millennium Falcon and take the controls yourself. You're actually going to pilot this thing. You're going to be the one in complete control, steering it through outer space, firing those lasers cannons, it's all up to you so please be gentle with her. She's an older ship.
Everyone assumed that the Millennium Falcon ride would be a motion simulator, but the news that it will be controlled by riders is new and very interesting. I can imagine one of two scenarios here: Disney has actually gone above and beyond and has taken simulator rides to the next possible level...or it will be like EPCOT's Mission: Space attraction, where visitors are given the illusion of control over a ride that actually runs itself. For additional details, including updates on dining and entertainment in the area, watch the video above.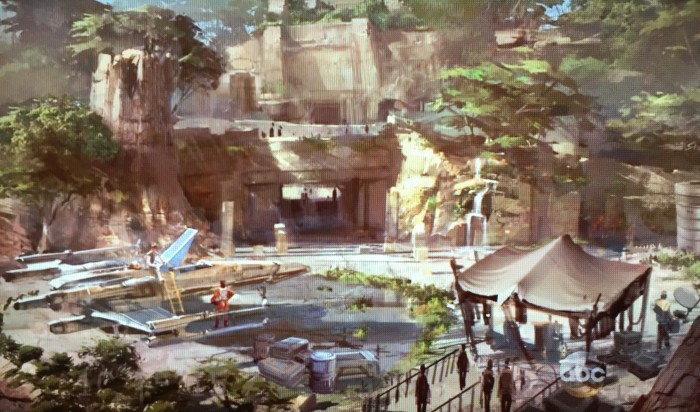 For Star Wars fans who want something to do at Disney theme parks before 2020, a fifteen minute fireworks and lights show titled Star Wars: A Galactic Spectacular will debut at Disney's Hollywood Studios park in Florida this June. Details remain under wraps, but the show will involve projecting-mapping tech that will place images from the films over the Chinese Theater at the center of the park.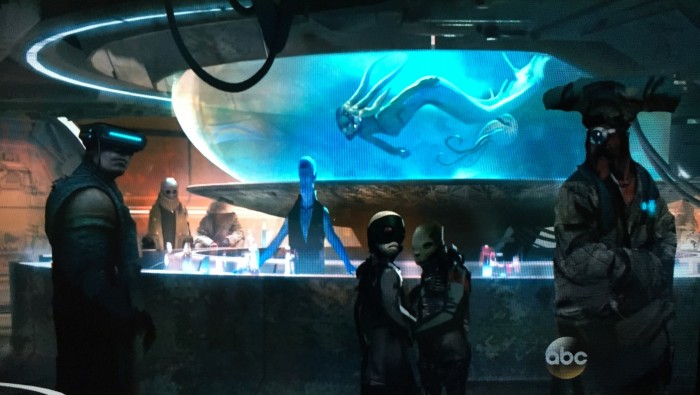 And did you think Disney was going to let May 4th go by without a proper celebration? Disneyland Park in California will celebrate Star Wars Day in style, screening the Star Wars Rebels episode "Shroud of Darkness" at the Tomorrowland Theater. There will also be "a unique, themed photo location" and collector glasses for "Jedi and Sith alike." The Galactic Grill Stage will also host a "fan celebration," complete with "Star Wars trivia and other special surprises will take place throughout the evening."