'Star Wars: Rogue One': Mads Mikkelsen Reveals A Key Detail About His Character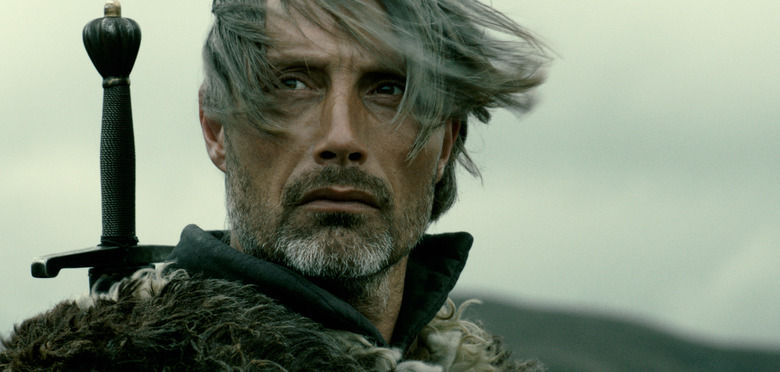 Even though we've already seen an impressive first trailer for Rogue One: A Star Wars Story, we still know very little about the characters in the movie so far. As of now, the only new character name we know is Jyn Erso, played by Felicity Jones, the young woman recruited by the Rebel Alliance to lead a mission to obtain the plans to the Death Star. But that changes today as a key detail about the Mads Mikkelsen Rogue One character has just been revealed by the Casino Royale star himself.
Find out more after the jump, but beware of potential spoilers.
Mads Mikkelsen recently sat down for an interview with Sky News, which you can watch here:
But if you don't feel like watching the interview, we'll scrub through the finer details. First, it doesn't appear as if Mikkelsen is entirely in the know when it comes to the Star Wars saga, because while speaking about Rogue one, he says, "It's before anything you've ever seen in the Star Wars universe." Maybe he's just ignoring the prequels, which most fans wouldn't mind, but there's still a whole trilogy of films considered canon that happens before Star Wars: A New Hope.
The interesting details come when the interviewer asked how he felt after being approached for a role in the movie from Godzila director Gareth Edwards:
"A little scared. I wasn't really sure if I was wearing a Stormtrooper outfit or anything like that at that point. I wasn't sure I could fit into that. I read the script. It was very beautiful. And Felicity [Jones] is playing this lovely, strong woman, and I play her father. And that was too much. I'm sorry."
So there you have it. Mads Mikkelsen is playing Jyn Erso's father in Rogue One: A Star Wars Story. However, it doesn't seem like we've seen his character on screen yet, unless he's the mysterious hooded figure we see in the trailer. We're also still waiting on confirmation of the character's name, but don't forget that Mikkelsen also might have let that slip last fall when he signed a fan's poster with his autograph and the name "Galen" as well.
Otherwise, the rumors about Mikkelsen's character peg him as a Robert Oppenheimer kind of character. Oppenheimer is the father of the atomic bomb, and similarly, Mikkenlsen's character has been said to be integral in the design and construction of the Death Star. Eventually he has a change of conscience and realizes that his work may not be in the best interest of the universe.
We're not sure if he's collaborating with the Rebel Alliance to help Jyn Erso get the Death Star plans, or if she even knows that her father is involved with the space station. Maybe he father's allegiance to the Empire is what inspired her to rebel to begin with. Either way, it's interesting to see that there's yet another potential conflict between our hero and their father.
Speaking of fathers, the reporter also asked if Mads Mikkelsen could reveal whether or not Darth Vader was in the movie. Mikkelsen said, "Yes, I can. But I won't." Damn it. Well, rumors from the set seem to confirm that Vader will indeed make an appearance, but we'll just have to wait patiently for confirmation on that front.
For more speculation on Rogue One: A Star Wars Story, check out our trailer breakdown right here.