Sequel Bits: 'Star Trek Beyond,' 'Fast 8,' 'Aliens,' '24,' 'See No Evil,' 'Dennis The Menace'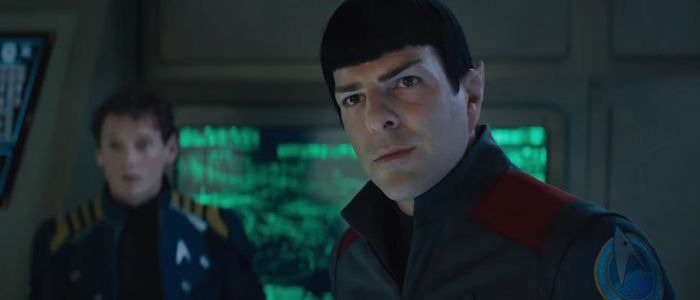 In today's edition of Sequel Bits:
Simon Pegg talks at length about Star Trek Beyond.
A new look at Sofia Boutella's Star Trek Beyond character.
James Cameron explains why he won't make another Alien movie.
Fast 8 has begun filming and there's footage of a car chase to prove it.
They're making a new Dennis the Menace movie for some reason.
A remake of 1971's See No Evil is in the works.
Fox has ordered 24: Legacy to series.
Collider recently sat down with Simon Pegg to discuss Star Trek Beyond, which he co-wrote with Doug Jung and features the actor returning as Enterprise chief engineer Montgomery Scott. And like many Pegg interviews, it's a geeky and thoughtful chat, like when he talks about combining the needs of a Star Trek story with the needs of a major action blockbuster:
Being given the keys to the Star Trek universe was an extraordinary privilege. It was extremely important to me that we did it justice. I know Star Trek means a lot to a lot of different people. It means an enormous amount to some people. And at the same time, it should be something that everyone can enjoy as well, so you have to look at the means of writing a screenplay as well, which is an invitation to the un-inducted of the Federation Fan Club, and those who have been watching the show for fifty years and knowing it and loving every element of it. And also what's available to us now and the state of cinema now, and the spectacle to bring people in. It was, 'Let's combine it. Let's combine the philosophies and tenets of the Star Trek universe with bigger set pieces and exciting stuff. Let's see Kirk and the guys doing stuff we haven't seen them do before because we just literally haven't been able to do that.' But that's not at the expense of the other stuff. Star Trek is a very thoughtful story. It's a very intelligent, hopeful projection of our own futures, and that's something we have to hang on to.
Pegg also felt the need to chew out anyone who may pre-emptively judge director Justin Lin just because of his history of making big, silly action movies:
I hate people saying that because it's Justin Lin it's just going to be Fast & Furious in space. It's a kind of reductive, asinine criticism. Justin's history as a filmmaker started off with a Sundance movie called Better Luck Tomorrow. He's a smart, sensitive guy. The fact that he was able to energize the Fast & Furious series is a testament to his smarts as a filmmaker. He's not just the car chase guy.
For additional quotes and video of the whole interview, follow the link above.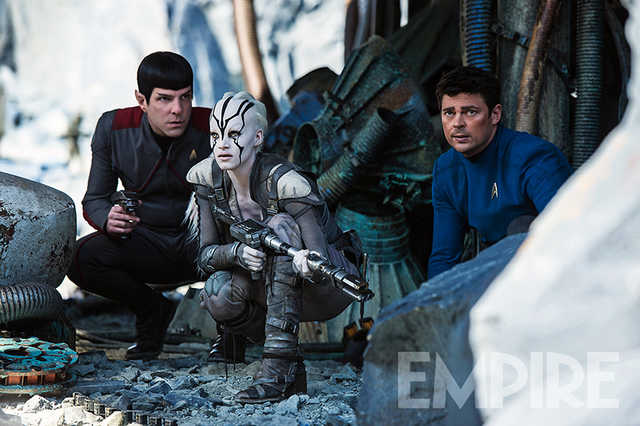 While we're on the subject of Star Trek Beyond, Empire has revealed a new image from the film featuring Zachary Quinto as Spock, Karl Urban as Dr. McCoy, and Kingsman: The Secret Service star Sofia Boutella as Jaylah, their mysterious new ally. Jaylah's role in the film remains under wraps, but we can safely assume that she has no love for the villainous Krall (Idris Elba), since she's heavily armed and hanging out with the crew of the Enterprise.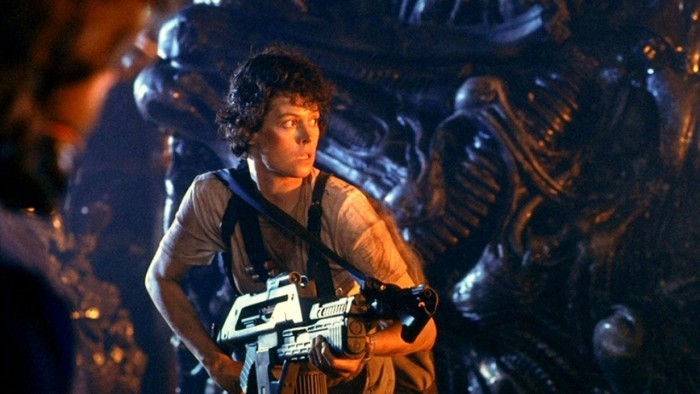 Before we stray too far from news related to beloved science fiction franchises, Famous Monsters of Filmland spoke with James Cameron to celebrate the 30th anniversary of Aliens and asked him if he'd be down to return to the series. His answer won't shock anyone:
Unless somebody could come up with some spectacularly new concept. I've got my own kind of alien world that I'm enslaved to now with the Avatar films, so I can pretty much rule that out.
Cameron is planning to make four new Avatar movies between now and 2023, so he can't even think about anything else at the moment. And it's not like we'll be without additional films in series – Ridley Scott is currently filming Alien: Covenant and Neill Blomkamp keeps on threatening that canon-shattering Aliens follow-up.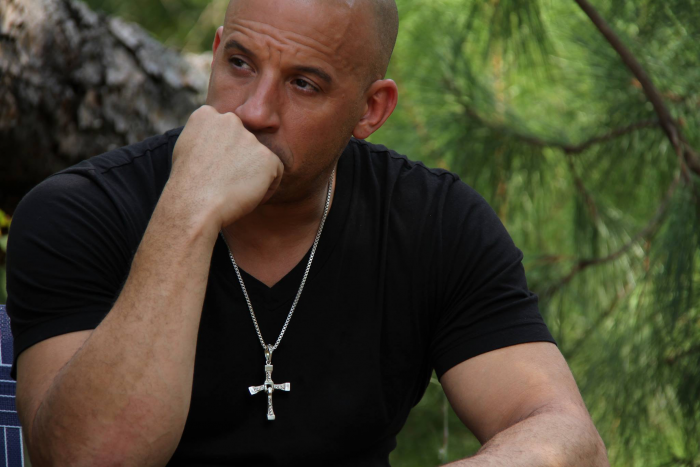 Fast 8 has officially begun filming and we know this because Vin Diesel has posted a Facebook picture of him wearing Dominic Toretto's chain. And we also know this because set photos have begun to trickle online and video of a fiery car chase being filmed in the streets of Havana has surfaced.Cámara Oculta graba Fast Furious 8 en La Habana by yusnaby
Speaking of characters who are menaces to society and tend to leave trails of destruction in their wake, Warner Bros. has hired a writer for a new version of Dennis the Menace. Stacey Menear, who wrote this year's sleeper hit The Boy, will pen the update, which will transport the famous comic strip character (who first appeared in 1951) to modern times. A previous Dennis the Menace movie, starring Walter Matthau and written by John Hughes, was released in 1993. It wasn't very good. In all seriousness, is anyone interested in a Dennis the Menace movie? Do kids even know who he is anymore?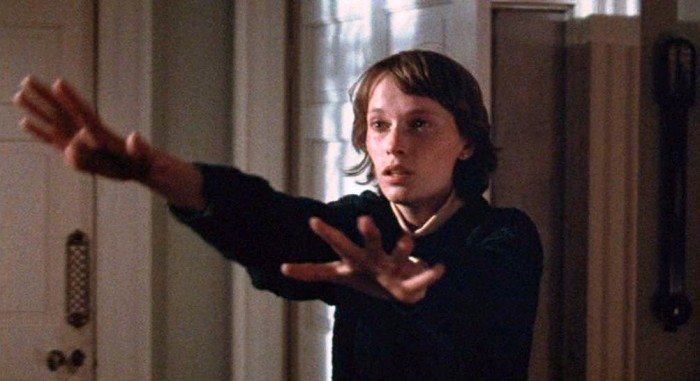 In slightly more promising remake news, Screen Gems has begun developing a new version of the 1971 thriller See No Evil, which starred Mia Farrow as a blind woman who is stalked through her family's isolated country home by a deranged killer. Mike Scannell has been brought on to write the screenplay while Bryan Bertino and Adrienne Biddle will produce through Unbroken Pictures. See No Evil is ripe for a reinvention – the original is very good, but that core concept is strong enough (and scary enough) to shoulder a remake.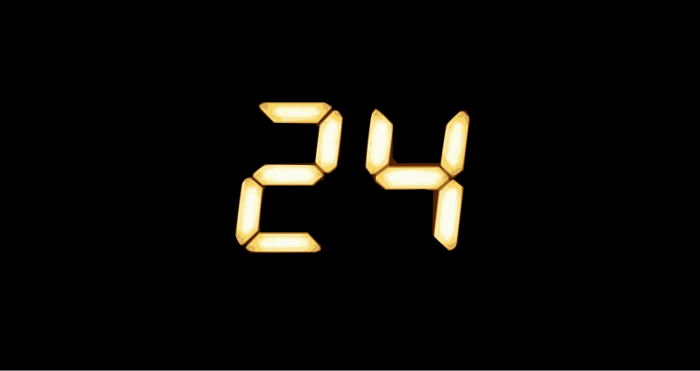 24: Legacy, the sequel series to the long-running 24, has been officially ordered to series by Fox. The new show will share the real time format of the original show, but little else, focusing on an entirely new cast as they literally work against the clock to battle terrorists and defend American soil and so on. The Walking Dead and Straight Outta Compton star Corey Hawkins will headline the series and the first season will consist of twelve episodes.