VOTD: Russell Crowe & Ryan Gosling Go To Therapy Before Promoting 'The Nice Guys'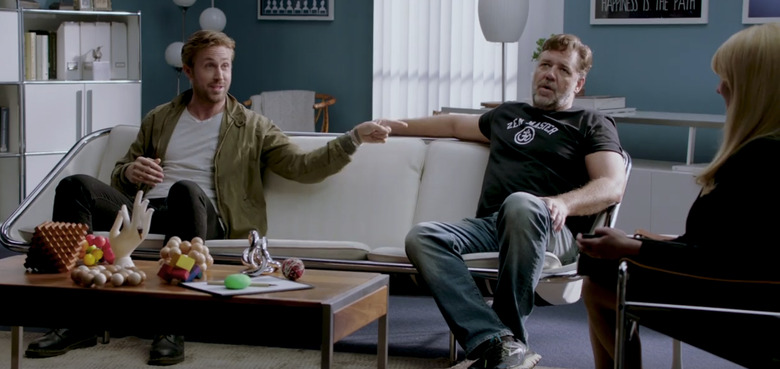 The Nice Guys is coming to theaters in just one month, which means we're going to see Ryan Gosling and Russell Crowe making the rounds on late night television and various other promotional avenues to help build the buzz around the movie. The latter is just coming off hosting Saturday Night Live (while Gosling hosted late last year), and now the two are making more comedy together with a series of webisodes following the two actors as they go into therapy together. If you weren't convinced that these two have chemistry from the trailers for The Nice Guys, these funny videos ought to do it.
Watch The Nice Guys viral videos after the jump.
Here's the first video teasing the several days of therapy from Warner Bros. Pictures:
And here are the first two installments of "The Journey" with several more on the way:
Would anyone be upset if this turned into an ongoing series even after Ryan Gosling and Russell Crowe are done promoting The Nice Guys? Gosling has dabbled in some comedic material in romances like Crazy Stupid Love and even in The Big Short, but Crowe is the surprising talent here, showing a real knack for comedic delivery and improvisation.
It's how these two work together that makes me think The Nice Guys could be the sleeper hit of the summer. With Shane Black writing and directing, we know this is going to be sharp and funny with plenty of film noir influences. At the very least we have a future double feature to look forward to when The Nice Guys can be paired with Kiss Kiss Bang Bang.
'The Nice Guys' takes place in 1970s Los Angeles, when down-on-his-luck private eye Holland March (Gosling) and hired enforcer Jackson Healy (Crowe) must work together to solve the case of a missing girl and the seemingly unrelated death of a porn star. During their investigation, they uncover a shocking conspiracy that reaches up to the highest circles of power.
The Nice Guys opens in theaters on May 20.