'Star Trek Beyond' Will Get Released In The Three-Screen Barco Escape Format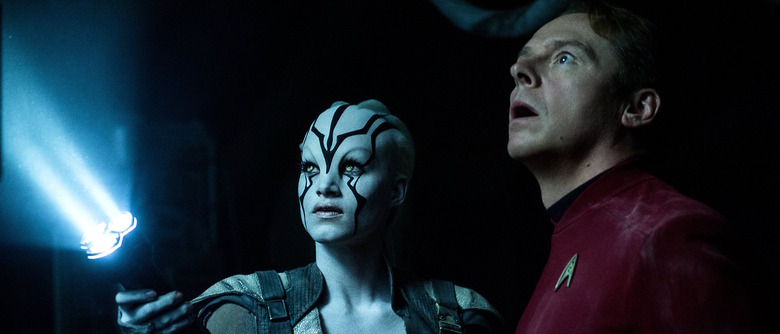 Back in 2014, a company called Barco teamed up with 20th Century Fox to debut The Maze Runner as the first film to use their new format called Barco Escape. Using three different screens, Barco Escape attempts to immerse audiences even more deeply into any given film by adding images on the left and right of the primary screen in front of you, creating a panoramic experience in theaters.
Now Paramount Pictures and Bad Robot are the next to give the format a shot by releasing Star Trek Beyond in the experimental Barco Escape format this summer. Get details on the special Star Trek Beyond Barco Escape release below.
Much in the same way that some films shoot sequences specifically on IMAX cameras for the giant screen, the same will be done with the Barco Escape format for Star Trek Beyond. According to the press release, at least 20 minutes of the movie will adapted for the Barco Escape format, and it will arrive at the same time the sequel hits theaters on July 22.
Here's what producer J.J. Abrams had to say about the announcement:
Justin Lin's Star Trek Beyond is an epic adventure — truly larger than life. It is especially fitting, then, that we are partnering with Barco to provide an ultra wide-screen immersive experience using their unique Barco Escape format. This premium format dramatically expands the width of the viewing plane, giving filmmakers an innovative new tool with which to tell stories and audiences an enhanced new way to experience cinema.
Barco Escape is still a new format, and they continue to expand it into more theaters. Back in 2014, Barco Escape was only available in five theaters, but now it's in nearly three times as many theaters. As of now, these are the places that the official Barco Escape website lists where you can experience the format:
Cinemark Lincoln Square Cinemas – Bellevue, WA
Village Cinema – Meridian, ID
Roxy Stadium 14 – Santa Rosa, CA
Palladio 16 Cinemas – Folsom, CA
Century at Pacific Commons and XD – Fremont, CA
Camera 12 Cinema – San Jose, CA
Sierra Vista Cinema 16 – Clovis, CA
Cinemark XD – Los Angeles, CA
Cinemagic Hollywood 12 Theatres – Rochester, MN
Cinemark Legacy & XD – Plano, TX
Santikos Silverado 16 – San Antonio, TX
Santikos Silverado IMAX – Tomball, TX
Santikos Palladium AVX Entertainment – Richmond, TX
If you want to know more about Barco Escape, you can check out our review of the format from when The Maze Runner came out in 2014. We're not sure if some improvements have been made since its debut, but The Maze Runner: The Scorch Trials took advantage of the format again last year, so they must be doing something right. If we get to experience the updated format, we'll be sure to let you know how things have changed. Otherwise, if you checked out Barco Escape recently, let us know what you thought in the comments below.