'God Particle' Looks To Cast John Krasinski, Glances At Camera, Smirks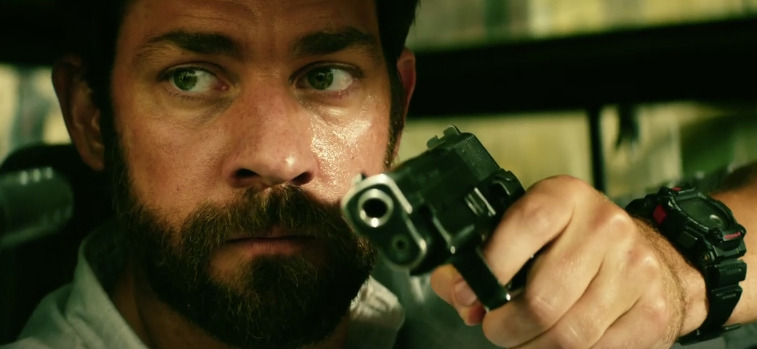 John Krasinski has brushed his shoulder against movie stardom a few times now. Although best known for playing the affable goofball Jim Halpert on the NBC version of The Office, Krasinski almost played Captain America for Marvel Studios. When that didn't work out, he landed the role of a different kind of American soldier in Michael Bay's 13 Hours, but that film fizzled at the box office. Krasinski is a fine actor, adept with both comedy and drama, but he always feels like he's just one big role away from headlining more movies.
Perhaps that role could come in God Particle, the new J.J. Abrams-produced science fiction thriller that Krasinksi is currently in talks to join.
Variety reports that Krasinski is circling the film, whose cast already includes electric performers like David Oyelowo and Gugu Mbatha-Raw. God Particle will be the second feature film from director Julius Onah, whose The Girl Is in Trouble came and went under the radar last year. However, Onah is a prolific short film director and Abrams has a thing for rooting out talented people. The fact that this project has already attracted such an interesting group of actors is a promising sign.
Here's how Variety describes the plot of God Particle:
[The film] takes place in the near future. It centers on a team of astronauts who make a terrifying discovery that challenges everything they know about the fabric of reality, as they desperately fight for survival.
An earlier report provided additional plot details:
...an American space station crew left abandoned after a problem with a Hadron accelerator causes Earth to vanish entirely.
It certainly sounds like a strong hook for a film and the combination of Krasinski, Oyelowo, and Mbatha-Raw sounds like an intriguing mixture of personalities. If this small scale, single-location science fiction story with a strong hook, a strong cast, and a promising young director reminds you of 10 Cloverfield Lane, you're not alone. We've already speculated that God Particle could be the latest entry in Abrams' burgeoning "Cloververse," which will give unique concepts and untested filmmakers the safety net of  franchise name to tell modestly budgeted, original genre stories. If I was a betting man, I'd put about $10 on God Particle having "Cloverfield" inserted into its title before it's released.
God Particle will arrive in theaters on February 24, 2017. With filming set to begin soon, the rest of the cast should start to fall in line sooner rather than later.