'Fantastic Beasts And Where To Find Them' Trailer: Newt Scamander Holds Secrets In His Suitcase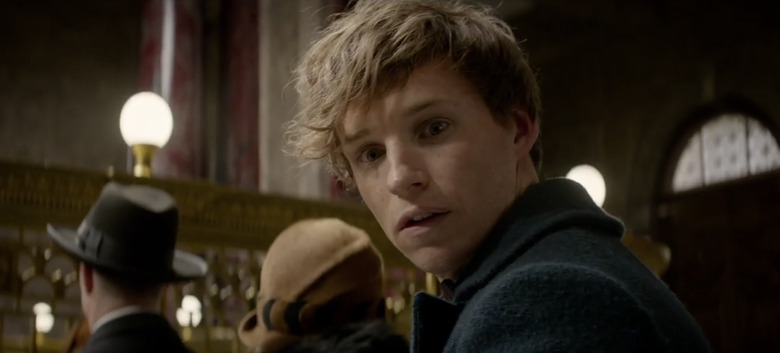 According to the new Fantastic Beasts and Where to Find Them trailer, we are all invited by J.K. Rowling to go back to the wizarding world of Harry Potter. But this time we're on the other side of the pond, in New York, in 1926, following wizard Newt Scamander (Eddie Redmayne) as he enters the Big Apple with a mysterious suitcase of magical creatures. We don't get to see much of any of the fantastic beasts that the title indicates, or where they were found, but this does look like the right way to spin-off the Harry Potter franchise.
Watch the new Fantastic Beasts and Where to Find Them trailer after the jump.
Here's the new Fantastic Beasts and Where to Find Them trailer from Warner Bros. Pictures:
This trailer actually gives us a little more information about Newt Scamander, including the fact that he was expelled from Hogwarts for his work with dangerous beasts. But not unlike Harry Potter, professor Albus Dumbledore fully vouches for him, likely because he sees brilliance in him.
Again, there's only a few glimpses of some of the magical creatures we'll see in the movie, but we do get to see some more magic wand wielding, apparition, and some better looks at characters such as the Muggle man Jacob (Dan Fogler) who befriends Newt Scamander and has his eyes opened up to the world of magic. Plus, it looks like Colin Farrell might bring some trouble to Scamander's life as Percival Graves.
The rest of the cast includes Katherine Waterston (Steve Jobs) as Tina, Alison Sudol (Transparent) as Tina's sister Queenie, Ezra Miller (Trainwreck) as Credence, Samantha Morton (Minority Report) as Mary Lou, Jon Voight (Ray Donovan) as Henry Shaw, Sr. Ron Perlman (Hellboy) as Gnarlack, Carmen Ejogo (Selma) as Seraphina, Jenn Murray (Brooklyn) as Chastity, young newcomer Faith Wood-Blagrove as Modesty and more.
If you want to see more from Fantastic Beasts and Where to Find Them, check out the recent featurette from the film and also watch the first teaser trailer for a little more footage from the spin-off.
'Fantastic Beasts and Where to Find Them' opens in 1926 as Newt Scamander has just completed a global excursion to find and document an extraordinary array of magical creatures. Arriving in New York for a brief stopover, he might have come and gone without incident... were it not for a No-Maj (American for Muggle) named Jacob, a misplaced magical case, and the escape of some of Newt's fantastic beasts, which could spell trouble for both the wizarding and No-Maj worlds.
Fantastic Beasts and Where to Find Them arrives November 18.