'The Jungle Book' Clip: You Know, Just A Moment Between A Boy And His Wolf-Mom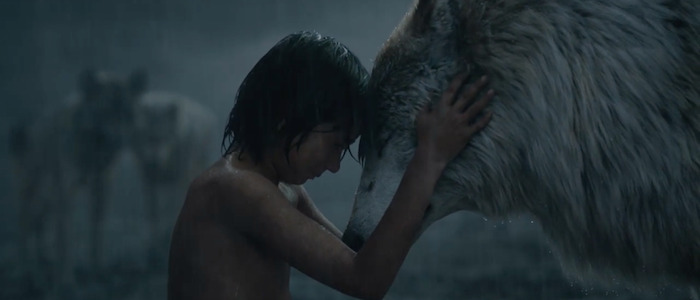 I may have shrugged at the earliest teaser trailer for The Jungle Book, the one that was 98% jumping through an unfinished CGI jungle, but I'll give credit where credit is due: the past few months have made me genuinely excited to see what director Jon Favreau does with this material. The most recent trailer is brimming with personality and charm. Those photo-realistic animal characters really do look stunning. The first clip from the film showcased strong vocal performances, killer visual effects, and strong sense of place. Yeah, I'm on board. Never bet against a Jon Favreau movie, unless the words "cowboys" and "aliens" are in the title.
And now, here's another new clip, just in case you need some additional convincing.
Anyone familiar with the basics of Rudyard Kipling's original stories or, more likely, the 1967 animated adaptation from Disney Animation, will understand what's going on here. It has been decided that Mowgli (Neel Sethi), the young boy raised by wolves in the Indian jungle, must return to live amongst his own kind. Bagheera the panther (Ben Kingsley) presides over the scene, as Mowgli shares a heartfelt farewell with his adopted mother Raksha (Lupita Nyong'o). His adopted father, Akela (Giancarlo Esposito) is also around to tug on your heartstrings.
Even though the the scene is almost entirely animated (Neel Sethi is one of the only live action elements present in the entire film), it's still an effective and moving scene. The effects are impressive, the voice actors are on point, and the whole thing just seems to work in a way that seemed impossible early on. Color me impressed.
Here's the official synopsis for the film:
Directed by Jon Favreau ("Iron Man"), based on Rudyard Kipling's timeless stories and inspired by Disney's classic animated film, "The Jungle Book" is an all-new live-action epic adventure about Mowgli (newcomer Neel Sethi), a man-cub who's been raised by a family of wolves. But Mowgli finds he is no longer welcome in the jungle when fearsome tiger Shere Khan (voice of Idris Elba), who bears the scars of Man, promises to eliminate what he sees as a threat. Urged to abandon the only home he's ever known, Mowgli embarks on a captivating journey of selfdiscovery, guided by panther-turned-stern mentor Bagheera (voice of Ben Kingsley), and the free-spirited bear Baloo (voice of Bill Murray). Along the way, Mowgli encounters jungle creatures who don't exactly have his best interests at heart, including Kaa (voice of Scarlett Johansson), a python whose seductive voice and gaze hypnotizes the man-cub, and the smooth-talking King Louie (voice of Christopher Walken), who tries to coerce Mowgli into giving up the secret to the elusive and deadly red flower: fire.
The Jungle Book will arrive in theaters on April 15, 2016.