Cardboard Cinema: 'Board With Life' Season 2 Arrives Today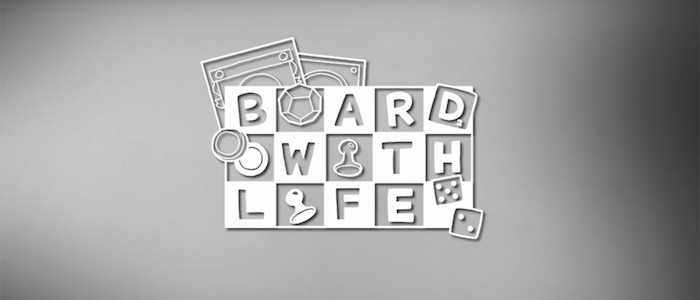 Yeah, /Film is a movie site first and foremost, but we're not shy about our love of tabletop gaming around these parts. That's why we have an irregular column that explores where board games and movies overlap. That's why board games with particularly cinematic themes find themselves in our spotlight. We're not just movie fans – we're pop culture fans, so watching how various mediums bounce off each other and interact will never not fascinate.
And that's why we're sharing Board With Life with you. This tabletop gaming-centric web series premiered the first episode of its second season today and it's a very fun amalgamation of silly jokes and very specific, very geeky references delivered by people who actually know what they're talking about and didn't just skim a Wikipedia page. It's very much the anti-Big Bang Theory.
The creation of Moonrat Media, Board With Life is fairly straightforward: a group of board game and tabletop fans navigate their way through life and relationships. Along the way, they play a lot of board games. In fact, each episode of the series revolves around a sing game, which often changes the dynamic of the characters and their interactions in ways both subtle and obvious. The fun here is that you're simultaneously getting an amusing comedy series and a thorough examination of a game. If the game the characters are playing amidst the action looks appealing too, it's probably something worth picking up.
The season two premiere focuses on Fiasco, Jason Morningstar's incredible RPG that tasks players with constructing an unstable situation full of pathetic lowlifes (and an innocent bystander or two) before they tear it to the ground. Of course, all of that happens between the various storylines and character moments and television parodies. An upcoming edition of this very column will be tackling Fiasco (it may be the most inherently cinematic game ever designed), but this episode should give a nice taste of what to expect.
If you're interested in more, the Moonrat Media YouTube channel has the entire first season as well as various other videos, including video reviews of board games, small skits, and even board game news. And in case you want to know more, here is the full press release for Board With Life season 2:
Just in time for Leap Day shopping, the web series Board with Life has returned with a second season. Board with Life is a comedy series about a weekly game night that never turns out well for its participants. Though this marks it's second season, Board with Life's creators insist that you don't need to have seen, or even enjoyed, the first season to appreciate the new season.
The 7 episode series launches this week and will be followed by a holiday special later this year. Highlight episodes feature special guests, such as Rich Sommer (Mad Men, Wet Hot American Summer, Love), Troy Baker (The Last of Us, Bioshock: Infinite) and Lisa Foiles (All That, UFC). The season premiere debuts as an incredibly accurate parody of "mockumentary" style sitcoms like The Office and Modern Family.
Board with Life is the rare comedy series that approaches a "geeky" hobby like board games in a fun way without patronizing its audience. If you love hobby board games, there are inside jokes for you, but the show is about the people who play the games more than the games themselves. You don't have to care about board games to get a laugh or two from Board with Life.