Phil Lord & Chris Miller Will Be 'Making History' For A New Time Travel Comedy Series At Fox
It seems like Phil Lord and Chris Miller can do no wrong. They turned what could have been a boring film adaptation of an old TV series into something hilarious with 21 Jump Street and the equally as good sequel. They crafted the brilliance that was The LEGO Movie. And they also made some magic on TV with Fox's comedy The Last Man on Earth. Now they're sticking with the sci-fi comedy realm for a new series at Fox called Making History, and it involves time travel. Is there a way I can set my DVR to record this now?
Deadline has news on Making History, which Lord & Miller will executive producer along with Julius "Goldy" Sharpe. The series follows a trio of unlikely friends who somehow figure out a way to travel through time. But of course, time travel is complicated, and they end up making their lives much harder than they need to be in 2016.
The lead character is Dan, described as "a nerdy computer science professor at a small college and the "failure" of an accomplished family, who is unpopular with both students and colleagues on campus." The guy is smart. In fact, he's so smart that he just comes off as a weirdo, even though he's figured out how to travel through time. So he decides to use his newfound discovery to start his life over and meet people who will accept him for who he is.
Apparently the show will feature two different versions of Dan, one with a lot of "nerd rage" in the present, and a cool, carefree Dan from the past. And who is talented enough to pull this character off? Why it's none other than Happy Endings and The Mindy Project star Adam Pally.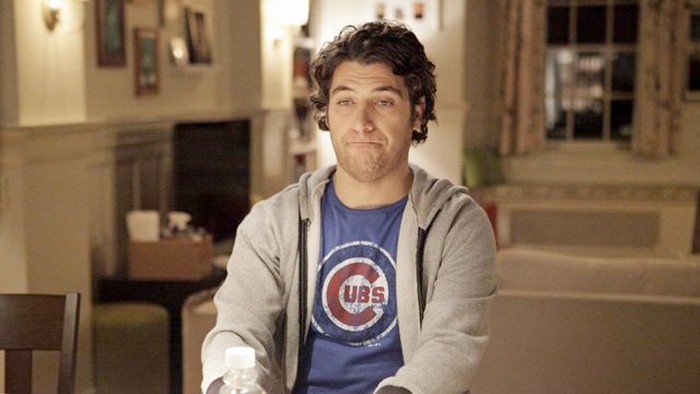 Pally has been on The Mindy Project for the past three years, but now that he's all finished with the Hulu comedy series (which actually originated at Fox), he was free for new pilots this season. Making History is the one he chose to go with, and with Lord & Miller on board it's easy to see why.
The comedian is one that I've been hoping would get an even bigger break than he's been given before. He has so much natural charm and charisma, and he's just plain funny. He was easily my favorite cast member on Happy Endings, and he made quite a splash with his indie flick Joshy, a film that feels like a Joe Swanberg movie in the best way possible. It's chock full of other comedic talent like Nick Kroll, Brett Gelman and Jenny Slate who really do a fantastic job bringing the heavily improvised script to life.
Anyway, it looks like Making History is being prepped for this coming pilot season, so if all goes well then hopefully we'll get to see this ordered to a full series. Lord & Miller were supposed to be working on a TV series adaptation of Serial as well, but we haven't gotten any updates on that project yet, so this one seems to be a priority for now. Stay tuned.