The 'Crouching Tiger, Hidden Dragon: Sword Of Destiny' Trailer Is Here To Glide Through The Air And Kick You In The Face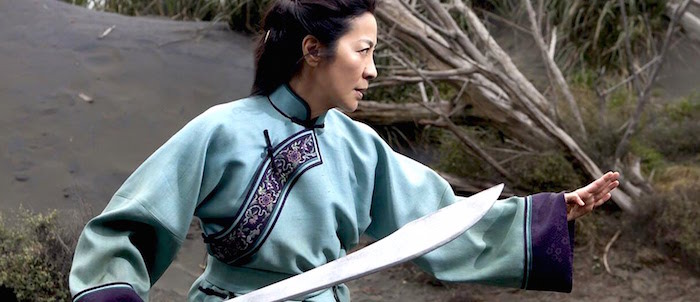 If you want to see just how much the film distribution landscape has changed in the past 15 years, look to Crouching Tiger, Hidden Dragon and its very delayed sequel Crouching Tiger, Hidden Dragon: Sword of Destiny. The first film was a huge box office hit, the rare foreign language film to win over American audiences in huge way. It went on to be a major player at the 2001 Academy Awards, gliding into the ceremony with 10 nominations and walking home with four statuettes. It transformed Ang Lee from a critically respected filmmaker into a major name. It brought martial arts movies back into the spotlight in a significant way.
And now, the sequel is here and it's literally going to straight to Netflix. Because Netflix has the power of a major movie studio and has removed the shame of a film pulling the modern equivalent of being a direct-to-video release. This makes for an interesting study, but since there's a new Crouching Tiger, Hidden Dragon: Sword of Destiny trailer available to watch right now, we have to ask another, more important question: does this look good?
Crouching Tiger, Hidden Dragon: Sword of Destiny looks like a sequel with the loosest possible connection to the original film. Only Michelle Yeoh's Yu Shu Lien is back and the plot looks entirely standalone – just another high-flying, fantasy-tinged martial arts epic set in the same world as the first film. And while that could very well be fine, it's hard to escape the the thought that this is only called Crouching Tiger, Hidden Dragon because the name is recognizable. This could be just another martial arts movie and no one would blink.
To be fair, what's on display here certainly does look cool. Ang Lee isn't involved this time around, but acclaimed martial arts choreographer Yuen Wo-Ping (whose credits include big films like The Matrix and Kill Bill) is behind the camera. If nothing else, Crouching Tiger, Hidden Dragon: Sword of Destiny will be a feast for the eyes and its fight scenes will be spectacular. The big question is whether he has the same knack for storytelling as Lee, who so effective melded legend and humanity in the first film.
In any case, this film features Donnie Yen and if there's one thing that can make an action movie better, it's him.
Here's the synopsis for the film, which sounds like fairly generic Martial Arts Movie Business:
Crouching Tiger, Hidden Dragon: Sword of Destiny tells an epic story of lost love, young love, a legendary sword and one last opportunity at redemption, set against breathtaking action in an epic martial arts battle between good and evil that will decide the fate of the Martial World.
Crouching Tiger, Hidden Dragon: Sword of Destiny opens on February 26, 2016 in two formats: on Netflix and on select IMAX screens. Now there's a picture of how the moviegoing experience is changing.