'Independence Day: Resurgence': Maika Monroe And Jessie Usher, The Next Generation Of Alien Ass Kickers [Interview]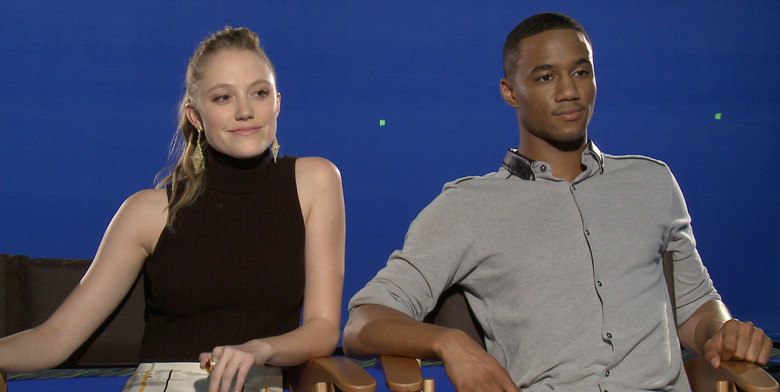 Even though there are plenty of stars from the original Independence Day returning for this summer's sequel Independence Day: Resurgence, there's a whole new generation of characters who will have to step up and fight just as their parents did in the first movie.
Maika Monroe (It Follows) plays the daughter of President Whitmore (Bill Pullman) while Jessie Usher (Survivor's Remorse) plays the son of the late Steven Hiller (Will Smith) and Jasmine (Vivica A. Fox). We had a chance to ask them about what it's like to step into the world of a movie that came out before both stars were old enough to be in kindergarten. It sounds like each of them will get their time in the action spotlight, and Monroe might even has her own "Get away from her, you bitch" moment in the movie.
To get the full story, check out our Independence Day Resurgence interview below.
As the offspring of two of the main characters, both Usher and Monroe's characters feel the pressure of their parents' legacy on their shoulders. Usher spoke up first by saying:
I don't know how it is for Patricia [Maika Monroe], but for Dylan, it seems like every person he meets, they're like 'Hey man, how are you? Listen, I knew your Dad...' You know, that's like the first thing they say. 'I remember when your Dad...' — All the time.
So Usher has quite the legacy to live up to, especially with his father being featured in his own comic book series. As for Monroe, it seems like she's a little more comfortable with the pressure since her character is an established fighter pilot, in addition to working for the new President Lanford (Sela Ward), following in the footsteps of her father rather successfully. And the two just might share some time in combat together in the sequel as Monroe hints:
Maybe there might be something along those lines. We might team up and kick some alien ass. Yeah, there might be something like that.
Monroe also confirms that she gets her own badass moment, not unlike Ripley in Aliens: "I'm quite excited about that. You gotta have that, right? You have to have that moment." It'll take a lot to measure up to "Get away from her, you bitch," but Monroe is certainly a tough enough actress to make it work.
For more from Monroe and Usher, including the last movie they would watch if the alien invasion were happening tomorrow, watch the full interview with them right here:
We always knew they were coming back. After "Independence Day" redefined the event movie genre, the next epic chapter delivers global spectacle on an unimaginable scale. Using recovered alien technology, the nations of Earth have collaborated on an immense defense program to protect the planet. But nothing can prepare us for the aliens' advanced and unprecedented force. Only the ingenuity of a few brave men and women can bring our world back from the brink of extinction.
Be sure to check out our interviews with director Roland Emmerich and returning star Jeff Goldblum, as well as co-stars Brent Spiner and Vivica A. Fox, and presidents Bill Pullman and Sela Ward. Stay tuned for more interviews with the rest of the cast very soon.
Independence Day: Resurgence arrives on June 24.