Fast And Furiosa: 'Fast 8' Is In Hot Pursuit Of Charlize Theron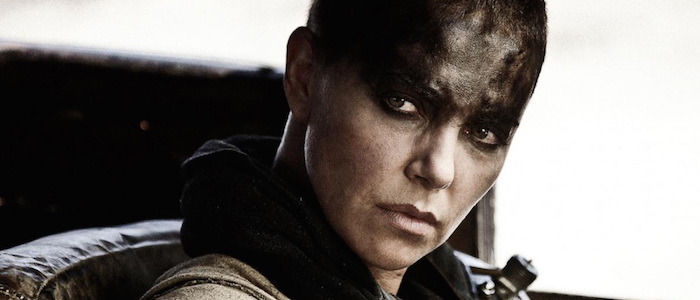 There is nothing the Fast and Furious series loves more than squeezing more big names and memorable faces into its already jam-packed ensemble. Fast Five brought an impossibly sweaty Dwayne "The Rock" Johnson into the testosterone-heavy mix. Furious 7 introduced Jason Statham as a vengeful villain who managed to beat the stuffing out of our seemingly unstoppable heroes. Now, in a display of good taste that may be just a little too obvious, Fast 8 is currently wooing Oscar-winner Charlize Theron for a new role.
Details are scarce, but Variety reports that Universal has put out an offer to the Mad Max: Fury Road star, but her casting is not yet official. If they manage to snag her, it will be a huge boon for the franchise. Theron is a powerhouse performer and getting to watch her cut loose in this borderline cartoon universe should make for a great time. It would would also mean getting to watch Imperator Furiosa herself face off against Dom and his crew of seemingly superhuman street racers and there is nothing this series loves more than leaning on your external love of its various cast members. See: Kurt Russell showing up just to cut some ham and gnaw on the scenery in the last film.
The only thing we know for certain is that Theron could play a "new villain," which opens the door for all kinds of speculation. Fast and Furious 6 introduced Luke Evans as Owen Shaw, a dangerous criminal whose defeat (and hospitalization under heavy security watch) inspired his brother Deckard Shaw (Statham) to seek vengeance in Furious 7. Since that film ended with the older sibling locked in The Rock's fancy sci-fi prison, maaaybe Fast 8 will open with the Shaw sister breaking her useless brothers out of jail and embarking on a new mission to revenge and/or profit. After all, these movies won't stop going on and on about family, so why not give Dom and his team a proper family to fight?
All they need to do next is cast Helen Mirren as the family matriarch and Fast 8 will become the Greatest Movie Of All Time, sight unseen. Seriously, this sausage factory of a film series could use a few more ass-kicking women, especially if they get to literally drive circles around the men.
Fast 8 is scheduled to open on April 17, 2017. Director F. Gary Gray is stepping in for James Wan, but the rest of the usual crew is expected to return, including Vin Diesel, Dwayne Johnson, Michelle Rodriguez, Tyrese Gibson, and Chris "Ludacris" Bridges.