'Finding Dory' Posters: Can You Find The Forgetful Fish?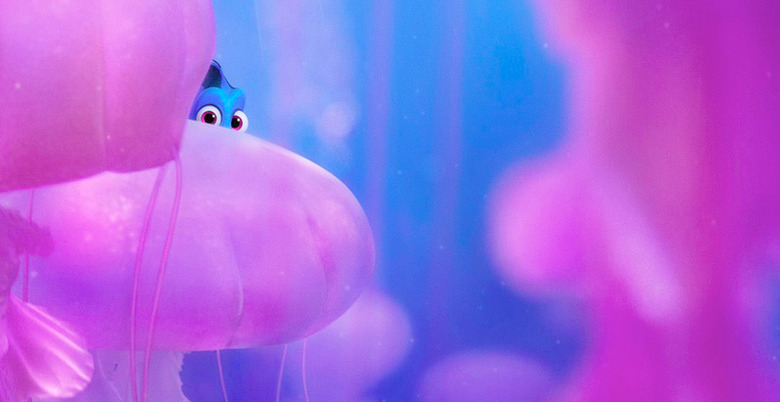 How can a forgetful fish, who doesn't remember anything about her past, find her family? We'll find out this summer when Disney and Pixar Animation bring their sequel Finding Dory to theaters.
So far we've only seen a little bit of the new adventure as Dory (Ellen Degeneres) starts to have flashes of her past, driving her to finally seek out her long-lost parents, who will be voiced by Diane Keaton and Eugene Levy. But a new trailer might be on the way soon, because we just got a batch of new Finding Dory posters that are very fitting considering the film's title. Plus, these posters just showcase how beautiful Pixar's animation has gotten over the year, and I can't wait to see how the underwater environments for Finding Dory have improved in the 13 years since Finding Nemo was released.
Here's the new posters unveiled by via Regal, AMC Theaters, Ellen and Cinemark today:
I really like that the spotlight is fully on Dory for these posters. It would have been easy to have Marlin (Albert Brooks) tagging along with her, but this movie belongs to Dory.
If you haven't seen the teaser trailer yet, you can watch it right here. And a quick, adorable teaser popped up not too long ago as well. We should be getting another look at Finding Dory sometime in the near future, so stay tuned to see what Pixar has in store.
Finding Dory sends Dory on an epic quest to find herself. A traumatic incident triggers Dory's homing instinct, and she sets out to return to her family, traveling all the way from the Great Barrier Reef to the Monterey Marine Life Institute in California. Meanwhile, Marlin and Nemo are also finding Dory in the sense that they're chasing after her.
The lengthy journey offers ample opportunity for Dory, Marlin, and Nemo to meet new folks, including Hank, a "cantankerous octopus" voiced by Ed O'Neill; Bailey, a "misguided beluga whale" voiced by Ty Burrell; and Destiny, a "kind-hearted whale shark" played by Kaitlin Olsen. Plus, we recently heard that Michael Sheen has some kind of role in the movie, though we don't know who he's playing just yet.
Disney•Pixar's "Finding Dory" reunites everyone's favorite forgetful blue tang, Dory, with her friends Nemo and Marlin on a search for answers about her past. What can she remember? Who are her parents? And where did she learn to speak Whale?
Finding Dory arrives June 17.