'MacGyver' Movie In The Works At Lionsgate As TV Series Reboot Is Ordered At CBS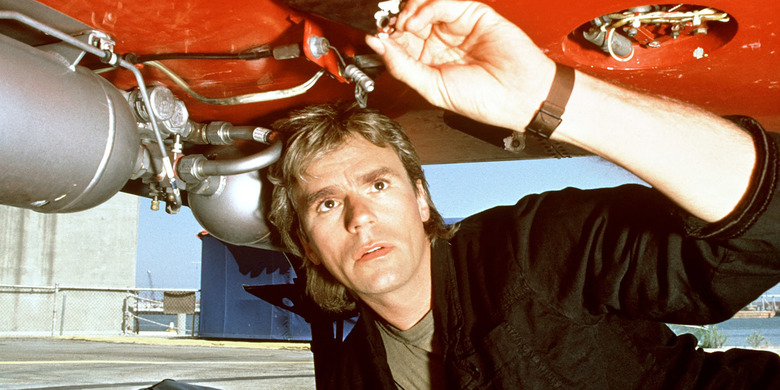 Joining the barrage of remakes and reboots, the action adventure TV series MacGyver will be making a comeback. But what's unique about the return of this property is that it has both a film adaptation and a TV series reboot in the works at the same time.
Just a few days ago, CBS officially ordered a pilot episode for a new MacGyver series, inspired by the show that ran on ABC from 1985 to 1992. In addition, today Lionsgate revealed that they're working on a MacGyver movie, something that has been kicking around Hollywood for awhile, never finding any firm ground at various studios over the years. Find out more about each of these new MacGyver incarnations below.
First up, the TV series sounds like the more sure thing that we'll see in the future. Variety reports CBS has just ordered a reimagining of the original show that followed Richard Dean Anderson with an outstanding mullet as secret agent Angus MacGyver, an employee of the Department of External Services. MacGyver became well known for using a mix of random items and his Swiss Army knife to get himself out of sticky situations and save the day.
James Wan is still attached to direct the pilot (he was previously attached to helm a film version years ago) which he will also executive producer along with Henry Winkler and Michael Clear. The script for the TV pilot comes from Paul Downs Colaizzo, an untested writer in the world of television.
If for some reason the pilot doesn't impress CBS, perhaps the MacGyver movie in the works at Lionsgate will actually work this time. As of now 21 Jump Street producer Neal Moritz and MacGyver creator Lee David Zlotoff are producing the movie, but that's all that was announced on an investors call from the studio today, as reported by Variety.
The question is whether audiences will be confused by and/or uninterested in one of these projects because of the other's existence. Do we really need a new MacGyver TV show and a MacGyver movie at the same time? Maybe the TV show should be the priority while a MacGruber sequel is finally put into action elsewhere instead. I can almost guarantee that a MacGruber sequel will be 1,000 times better than any MacGyver movie.
Anyway, I'm willing to bet that one of these projects will end up falling to the wayside. But considering how crazy studios and networks have been for bringing old shows to television and the big screen again, there's a chance that both of these could move forward and find success. We'll find out soon enough.