Paul Feig's 'Ghostbusters' Getting Their Own LEGO Set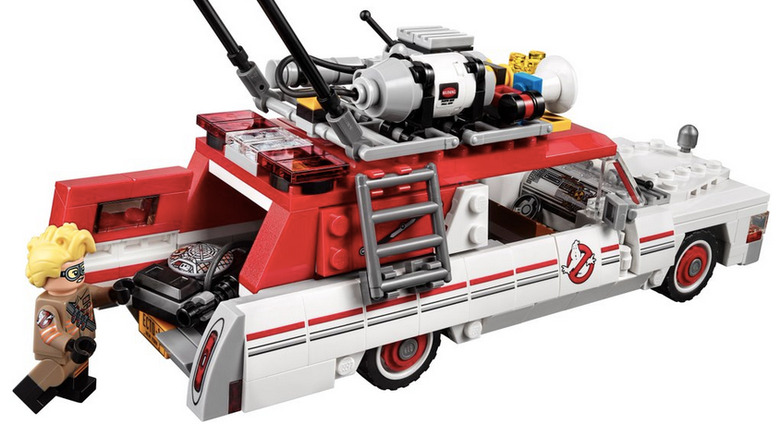 The Ghostbusters reboot/remake, or whatever you want to call it, is coming this summer. We already know there's plenty of merchandising coming for the new movie because director Paul Feig already showed off some Ghostbusters action figures of Kristen Wiig, Melissa McCarthy, Leslie Jones and Kate McKinnon. But I don't think anyone was expecting this yet.
Ghostbusters fans were rather pleased to get a LEGO set commemorating the titular paranormal exterminators and their iconic car, the revamped classic ambulance known as the Ecto-1. The vehicle got a pretty sweet companion set in the form of the Ghostbsuters' firehouse this year, and now they'll both have some company in the form of Paul Feig's Ghostbusters.
The first photos of the set featuring the team's new vehicle and some awesome minifigures have been revealed and you can see them below. But beware, because one piece of the set gives away a bit of a spoiler.
Here are the photos of the 2016 Ghostbusters LEGO set coming this year:
Feig first teased the LEGO set this morning, and the official announcement from LEGO came about an hour later. The minifigures are fantastic, especially the hairpieces for Kate McKinnon as Jillian Holtzmann and Leslie Jones as Patty Tolan.
As you can see, there's a LEGO version of Chris Hemsworth as the ladies' secretary (whom we just got a first look at recently), riding a new Ghostbusters vehicle called the Ecto-2. But if you look at his eyes, it seems that he's possessed by something, perhaps that red, winged creature. That seems to indicate the Ghostbusters' secretary might get a little too close to the paranormal activity.
Considering all the controversy we've seen about characters like Black Widow from The Avengers and Rey from Star Wars: The Force Awakens getting the short end of the stick when it comes to the action figure aisle, it's pretty cool to see the lady Ghostbusters have a whole line-up of merchandise that will be coming to shelves before the movie.
We've yet to see any footage from the new Ghostbusters, but when Feig announced that the official Ghostbusters site was up and running, he also said the first trailer was coming sometime towards the end of the month. Frankly, I'm surprised that they didn't want to spend the money to promote the movie during the Super Bowl. And I wouldn't expect any surprises, because Sony Pictures didn't purchase any advertising time at all.
Thirty years after the original film took the world by storm, Ghostbusters is back and fully rebooted for a new generation. Director Paul Feig combines all the paranormal fighting elements that made the original franchise so beloved with a cast of new characters, played by the funniest actors working today. Get ready to watch them save the world this summer!
Ghostbusters arrives on July 15.