'The American Dreamer' Mondo Poster: A Long Lost Dennis Hopper Documentary Inspires Some One-Of-A-Kind Art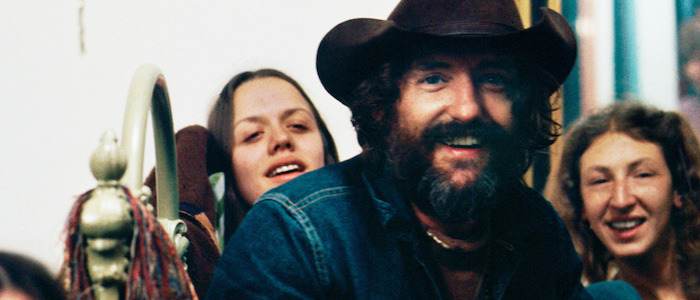 Dennis Hopper is one the most fascinating figures in American cinema, a vital artist who rose so fast and fell so hard that his story has taken on a tragic aura. What would have become of the director Easy Rider if his second film wasn't a failure? Would he still be in the same conversation as the likes of Martin Scorsese, Francis Ford Coppola, Brian De Palma, and the rest of their peers? These days, the late Hopper is remembered more as a character actor than as a filmmaker, with the tales of his off-set antics overshadowing his contributions to American New Wave of the '60s and '70s.
We're pleased to premiere Mondo's new poster for Lawrence Schiller and L.M. Kit Carson's The American Dreamer, a cinéma vérité documentary tracking Hopper as he basks in the glow of Easy Rider and sets out to make The Last Movie, a film that would derail his career for years. The poster (which signifies a serious departure from Mondo's usual style) celebrates the restoration and theatrical re-release of this widely unseen film, which will play in limited release in select cities and see a digital release later this month.
Here's the synopsis for The American Dreamer, which was originally screened only at college campuses in 1971:
THE AMERICAN DREAMER examines Dennis Hopper at his wildest and most creative period: in the wake of his famed directorial debut, Easy Rider and completing his follow-up opus The Last Movie. Surrounded by a cohort of friends, babes and drugs, Hopper attempts to edit his soon-to-be shunned film as his consciousness expands at an alarming speed.
And here's the poster, which was designed by Mondo Creative Director Jay Shaw: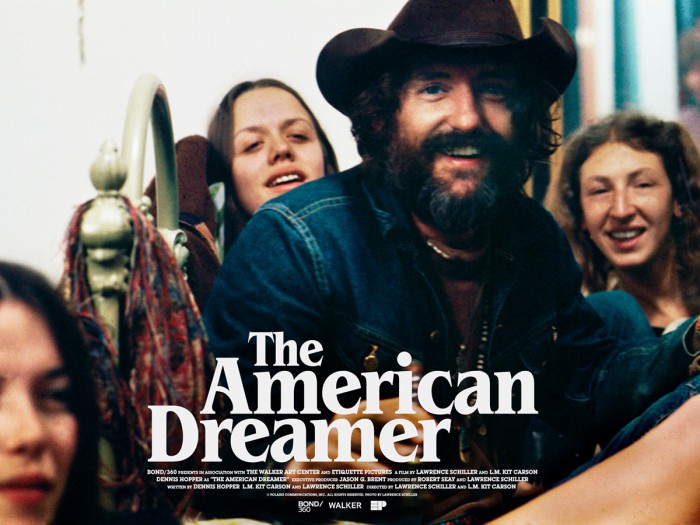 As you may have noticed, that poster doesn't bear much of a resemblance to Shaw's usual work. Or anything else under the Mondo banner, for that matter. It turns out that director Lawrence Schiller sent Mondo a batch of photos that were taken during the production of the film and Shaw realized that no piece of original art could encapsulate film, and Hopper, quite as well as one of Schiller's candid snapshots. Here's Shaw's whole story:
When we were asked to create a poster for THE AMERICAN DREAMER, I was instantly overwhelmed. I've seen the film several times and absolutely love it. It's a candid and endearing portrait of Dennis Hopper's maniacal creative process. Lawrence Schiller, the film's director and acclaimed photojournalist, sent a collection of photographs he'd taken during production back in 1971. When I saw these wonderful photos, I realized there was nothing we'd be able to illustrate that would capture the essence of this film in the same way. One photo in particular stood out. Dennis sitting in the middle of a group of devotees smiling toward the viewer. There's an optimism and naiveté in that image I just love. It's a moment you imagine Dennis would want to bask in if he could.
Mr. Schiller graciously collaborated with us in turning one of his photos into the poster for the film. We decided to create a four color process screen print to pay homage to the analog nature of the film and posters of the era. Our dear friend and artisan printer Dan Black assumed those duties for us. We're incredibly proud of the project and couldn't be more honored to work with Mr. Schiller on it.
If you want a further taste of what The American Dreamer has to offer, you can watch the trailer for the re-release, which showcases stunning visuals and a very open Hopper, showcasing a human side that is often lacking from the stories, anecdotes, and rumors that define this portion of this life.
You can find a complete schedule of when and where The American Dreamer is screening below. If it's not playing anywhere near you, know that it will be exclusively available to watch via MUBI on February 12. Don't sleep on this one – it looks like something special.
2/3 – 2/6/16: Cinefamily's Lawrence Schiller Retrospective, Los Angeles, CA
2/5 – 2/7/16: DocHouse, London, UK
2/11/16: Alamo Drafthouse New Mission, San Francisco, CA
2/12 – 2/17/16: Picturehouse Central, London, UK
2/15 – 2/17: Clinton Street Theater, Portland, OR
2/25/16: The Cinema Museum, London, UK
2/29/16: Alamo Drafthouse Ritz, Austin, TX
3/8/16: Beacon Film Society, Beacon, NY